Cecil the lion killer Walter Palmer could face up to 10 years in jail if he is convicted in a Zimbabwean court.
The country has called on the US to extradite the 55-year-old dentist after it emerged he had shot the protected animal with a bow and arrow.
Palmer fled the country before the Zimbabwean authorities knew what had happened.
He admits killing black-maned Cecil, who was a tourist attraction, but said he hired professional guides and believed he had the necessary permits.
The life-long hunter has gone into hiding since his identity was revealed by Zimbabwean conservationists.
The man accused of killing Cecil the lion wanted to hunt an elephant after the slaying but "couldn't find one big enough", his guide claims.
Theo Bronkhurst told The Daily Telegraph he never meant to hunt in the land where Cecil was shot and was "devastated" to learn Walter Palmer had killed a protected animal.
He said: "We would never shoot a collared animal. We were both upset. I should have taken the collar to the parks authority but I panicked.
"So we did what had to be done and took the head and skin as the client had paid for the trophy.
"The client asked if we would find him an elephant larger than 63 pounds (the weight of one tusk) but I told him we would not be able to find one so big, so he left the next day."
Mr Bronkhurst claims he "never knew about Cecil, this famous lion" and that four other collared lions had been shot in the same area this year.
Advertisement
Zimbabwe has called for Cecil the lion killer Walter Palmer to be extradited from the US over the "illegal" killing.
Officials allege Palmer, a 55-year-old dentist from Minnesota, broke the law by financing an illegal hunt.
Palmer claims he thought it was organised above board and did not know Cecil was the country's oldest and most famous lion.
Environment minister Oppah Muchinguri said she understood the Prosecutor-General had already started extradition proceedings against the "foreign poacher".
Cecil the lion killer Walter Palmer has been warned "the world will hunt you down" in a message left outside his holiday home.
A sign, with a lion cuddly toy attached, was taped to the front door of the property in California.
It reads: "You are an abomination - the world will hunt you down. Cecil Innocence."
Palmer has not been seen since news of the lion's death broke sparking a furious backlash from animal rights campaigners around the world.
The White House said today it would review a public petition to extradite American dentist Walter Palmer accused of illegally killing Cecil, Zimbabwe's favourite lion.
The petition has exceeded the required 100,000 signatures, and the White House has said it will respond to all petitions that meet that level.
White House spokesperson Josh Earnest said it is up to the Justice Department to respond to an extradition order.
The incident is currently being investigated by Zimbabwean authorities and the US Fish and Wildlife Service, who said that efforts to contact Dr Palmer have been unsuccessful.
An international hunting organisation has suspended the membership of the US dentist accused of illegally killing protected Cecil the lion in Zimbabwe.
Safari Club International, which promotes big-game hunting worldwide, issued a statement saying memberships for Walter Palmer and his guide in Zimbabwe, Theo Bronkhorst, will be suspended while investigations are ongoing.
The Safari Club said "those who intentionally take wildlife illegally should be prosecuted and punished to the maximum extent allowed by law".
The announcement came as the US Fish and Wildlife Service is investigating whether Dr Palmer violated US law against trading in animals that have been illegally killed, transported or sold.
Advertisement
Efforts to contact Dr Palmer, who killed Zimbabwe's favourite lion Cecil in a trophy hunt, have been unsuccessful, a US wildlife agency has said.
The US Fish and Wildlife Service (USFWS) said in a statement yesterday it is deeply concerned about the killing of Cecil and is gathering information to assist Zimbabwean authorities in its investigation into the incident.
On twitter today, it said that efforts to contact American dentist Dr Walter Palmer, who shot the lion with a crossbow, have so far been unsuccessful.
USFWS is investigating the tragic killing of #CecilTheLion. Will go where facts lead. Efforts to contact Dr. Palmer so far unsuccessful.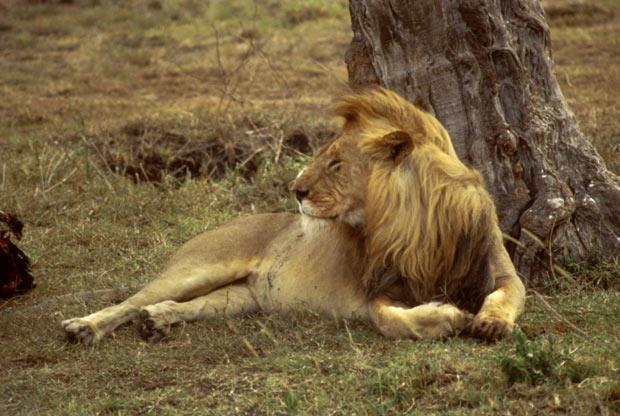 The USFWS is investigating whether the killing of the beloved lion was part of a conspiracy to violate the Lacey Act, an American law against trading in wildlife that has been illegally killed, a source close the case said.
US police have launched an investigation into "terroristic" threats made against Minnesota dentist and trophy hunter Walter Palmer.
Palmer has become the target of global outrage after being outed as the killer of famous Zimbabwean lion Cecil.
Deputy Police Chief Mike Hartley said they were investigating a threat made over the phone to his officers.
A terroristic threats report related to this incident was taken by our police department yesterday and will be investigated like any other similar offence report.
– Mike Hartley, Bloomington Police
An avid game hunter, Palmer has admitted to his part in the death of Cecil, who was lured from the protection of Hwange National Park before being shot - but said he believed the hunt was legal.
Palmer's dental surgery, River Bluff Dental, has been bombarded with hate mail and scathing online reviews, while protests have been held near the offices in Bloomington.
An 'ethical hunting' supporter has said "culling" is an important part of conservation work - but condemned those behind the killing of popular Zimbabwean lion Cecil.
Former Zimbabwe game guide Garth Hovell told ITV's Good Morning Britain that while African nations remained too poor to pay for culls themselves, trophy hunters would continue to wield power - and if people have concerns, he added, they need to "step up" and contribute financially.
US dentist Walter James Palmer paid $50,000 (£32,000) to kill the lion, which it later emerged had been lured from the protection of Hwenge National Park before being injured with a bow and arrow. He was shot dead with a rifle 40 hours later.
Mr Hovell said that culling was needed to prevent the spread of disease and to control populations, but said he had grave concerns about some of the practices being employed.
If the hundreds of thousands of people who have signed anti-hunting petitions even donated just $1 (64p) each, they could make a real difference.
These countries can't afford to pay for culls themselves, so they get wealthy people from around the world to come come and do it.

The problem that a lot of moderate people have and a lot of conservationists have is the way that hunting is being conducted - baiting animals out of the national parks, shooting at night - which is absolutely illegal in Zimbabwe, because you can't see what sex it is, and if they had seen a collar on Cecil hopefully they wouldn't have shot him.

Females are being shot, and pride males are being shot, which will lead to infanticide.
– Garth Hovel, pro-ethical hunt supporter
Professional hunter Theo Bronkhorst has been charged with organising the hunt, while game park owner Honest Ndlovu may also face charges.
Dozens of protesters gathered outside the practice of a suburban Minneapolis dentist who killed a protected lion in Zimbabwe.
Read the full story ›
Load more updates