The way alcohol is sold at airports is to be reviewed by minister Lord Ahmad after a spate of booze-fuelled air-rage incidents.
Read the full story ›
New security checks for travellers heading to France cause tailbacks of up to 20 hours for some.
Read the full story ›
Advertisement
Travellers heading towards Dover could face delays for weeks to come, police have admitted after a weekend of gridlock on the roads.
UK Border Force officials were drafted in to help after extra security checks which were introduced following recent terror attacks caused miles of tailbacks.
Kent police said the situation was back to normal by Sunday night, with those on the roads facing a wait of about 30 minutes on the A20 approach to Dover.
However the force said that the "large volume" of holiday traffic coupled with heightened security checks "could however mean some delays over the next few weeks".
They had initially predicted severe disruption could last into Monday.
As police warn disruption at Dover is set to continue, volunteers who came to the aid of stranded motorists offer further assistance.
Read the full story ›
A woman with multiple sclerosis travelling to Germany for potentially life-changing treatment has said she endured a 20-hour ordeal due to severe delays at Dover.
Tanya Cudworth, 50, was travelling to a clinic in Frankfurt to undergo stem cell treatment for her condition after raising £5,000 for the trip.
She told the Press Association, that she set off from Tunbridge Wells at 8.30am on Saturday with her partner but they did not board a ferry until 4.20 am on Sunday.
Ms Cudworth described the experience as "absolutely horrendous".
I'm taking the trip to get this treatment that I hope will keep me from having to go in a wheelchair. It's not available on the NHS and we've done some fundraising. It's a good job I didn't have to be at the hospital sooner - 19 hours in the car has obviously aggravated my symptoms.
– Tanya Cudworth,
Ms Cudworth also claimed the couple "didn't get any water until 3am".
"I saw women with babies, young families and people with pets with no water. It's shocking that more wasn't done to get it to people, the authorities weren't anywhere to be seen."
"My partner has been a lorry driver since he got his licence and he has never seen anything like it here or abroad," she added.
Motorists travelling to the Port of Dover on the A20 have been advised that they face a five hour wait from the RoundHill tunnel to reach the port.
The estimated waiting time for those arriving on the A2 from Whitfield is 60 minutes
Upon arrival at the port, estimated waiting time to reach French Border checks is approximately 90 mins.
Once in Port, estimated waiting time to reach French Border checks is currently 90mins.
Advertisement
UK Border Force staff have been drafted in to assist with French border checks at the Port of Dover, after motorists were caught up in delays of up to 15 hours on Saturday.
It comes after the government said motorists had suffered "extraordinary disruption", due to increased security checks in the wake of recent terror attacks in France.
Police have warned the delays could last until Monday.
Drivers who have been stranded in Dover for almost a day say the situation is getting "desperate".
One man, who said he had been stuck for 19 hours, posted a picture of his young granddaughter, who he said had become "weak and dehydrated" as the nearest place to buy water was a three-mile walk away.
Meanwhile, University of Bolton graduate Anita Klipanovic - who had been on her way to a week's holiday in Croatia - said she had been stuck in the queue for 13 hours.
#Dover Things are getting really desperate. According to GPS nearest place I can buy water is a 3 mile walk from here. Nobody is helping us
Hundreds of motorists were forced to spend the night in their cars as increased security checks by French border control in the wake of recent terror threats caused lengthy delays.
A Sikh humanitarian relief organisation helped thousands of motorists stranded in queues headed for Dover, delivering almost 6,000 bottles of water and snacks overnight.
Khalsa Aid volunteers distributed the refreshments as drivers faced delays of 11 hours on the approach to the port, with many forced to spend the night in their cars.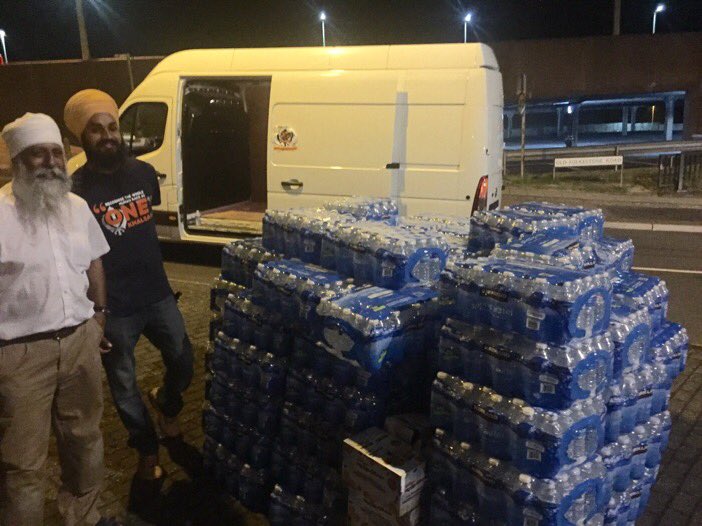 Hundreds of drivers have been forced to spend the night in their car after tightened security checks by French border officials caused huge delays.
As temperatures soared today, many were left stranded as miles of tailbacks built up.
Providing regular travel updates, the Port of Dover Twitter feed said the estimated travel time between the Roundhill Tunnels on the A20 in Folkestone to the port - a nine-mile journey - was 11 hours.
Meanwhile, from the Whitfield Roundabout on the A2 - just five miles away - motorists could expect delays of just under two hours.
#DOVER UPDATE: estimated waiting times to get to the Port - #A20 Roundhill Tunnels 701min & once you get to #PortofDover Buffer Zone 118min
Load more updates