X Factor auditions arrive in Newcastle
by Richard Salkeld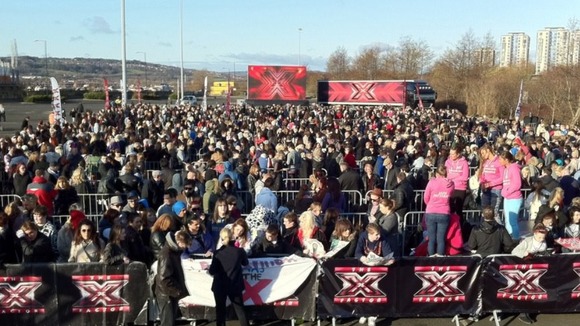 After the success of Joe McElderry as well as Jade and Perry from Little Mix, X Factor bosses decided it was time for auditions to return to the North East.
The search got underway at the weekend as the first stage of the X factor auditions came to Newcastle. Thousands from across the region waited several hours to perform in front of the cameras.
Until we get to the live shows this stage is sort of my favouritebecause you do, it's a Heinz 57, you know, you've got so many different people,so many different backgrounds and I love being surprised at the auditionstages.
– Dermot O'Leary, X Factor Presenter

It was six years ago since the auditions were last held in our region and it isn't until June when the celebrity judges will come to Newcastle as they wittle down the many thousands who took part in the first stage of the auditions. ITV is yet to announce the celebrity judges for the 2012 X Factor competition.
Obviously we're looking for a really great voice but it's always nice when you've got a really good personality, someone who always seems really happy and always willing to get involved with new things.
– Gemma Goodyear, Associate Producer, X Factor

Emily McNamee from County Durham was one of the many hopeful contenders at Saturday's auditions. She previously reached the first stage of the TV talent contest in 2008 but was voted off in the first of the live shows. She's hoping to have better luck performing as a solo artist.
I auditioned four years ago it was now and I was in a girl band called Bad Lashes and we reached the final stages and we went out on the first week unfortunately so I've worked on my vocals so I thought I'd give it a shot on my own.
– Emily McNamee, X Factor contestant

Those who took part in the auditions held at the Newcastle Metro Radio Arena will find out if they've reached the next stage of the biggest TV talent show in Europe in a few weeks time.

Watch Richard Salkeld's full report here on ITV News Online.

For more information on the new series visit the X Factor website.