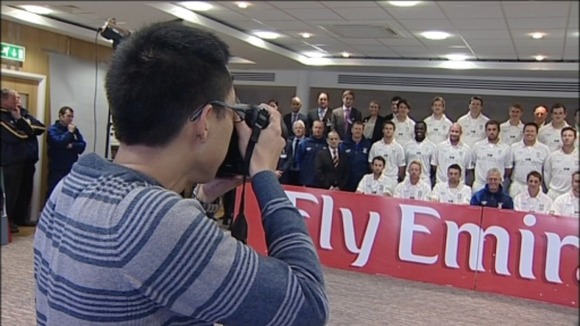 Durham launched the new county cricket season on a day that turned out to be cold, wet and snowy. The media photocall was moved under cover to dodge the weather - but there was no covering up the club's ambitions for the months ahead.
2007 through to 2009 were the trophy years for Durham, but they were close to everything last summer, and they look in with a shout in all formats this year.
The former England player Steve Harmison is still recovering from injury and accepts his international days are behind him. But he has high hopes for his county club.
"At the end of the day, Durham are making massive strides forward. We are an experienced squad. With a bit of luck, if the weather is good for us, we certainly have the squad and the players to win the championship."
– Steve Harmison

Harmison's old partner-in-crime Paul Collingwood will also be a fixture at the Emirates ICG this summer. The England 20-20 World Cup winning captain said he knows it will "take pretty much a miracle" to get back into the international side, but is not closing any doors.
"England will be looking at the younger generation coming through. But I'm going to keep it open because I find it a big motivation in trying to get back in the side and something that drives me on all the time, trying to become a better player. And you just never know what can happen."
– Paul Collingwood

Meanwhile Graham Onions also said he will live for Durham this summer, but dream of an England recall.
"It's important now that I am challenging to try and get my place back in the side. We've seen obviously with Stuart Broad recently, he's got injured, came home, whether or not he's going to be fit for the start of the season, we'll just have to wait and see.

But I've got to make sure the first month for Durham at the start of the season is a good one for myself."
– Graham Onions

And then there is Ben Stokes, from Cumbria, who has a reputation for big-hitting. He made his England one day debut last summer and wants more.
"It was brilliant to be involved in that last year but at the moment my main focus is getting on the pitch with Durham. If that chance comes to get into the England team again, hopefully I can take it with both hands."
– Ben Stokes