An engineering firm is creating up to 1,000 jobs in Wallsend after a Government grant for offshore wind farm development.
Offshore Group Newcastle's been awarded £640,000 to produce a prototype foundation 'jacket' for offshore wind turbines. It'll start work later this year. The structures will be designed to anchor the turbines to the seabed, up to forty metres underwater.
The company's plan is then to build a new factory to mass produce the technology on three production lines, employing up to 1,000 people by 2014.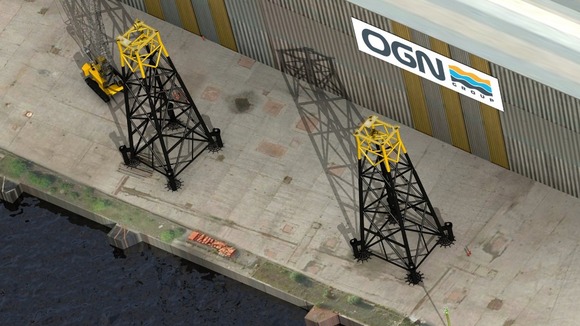 The offshore wind energy market is crucial to Britain's future energy needs and we will do our utmost to ensure this grant takes the UK into an even stronger role as the lead player in this sector.
– David Edwards, OGN Chief Executive

The UK government plans to place 6,000 wind turbines in the North Sea by 2020. OGN believes mass production of the turbines and their foundations is necessary to meet the demand.

The announcement adds to the North East's credentials as a leading player in the renewables market. The region is already home to the Narec national renewable energy centre in Blyth.

Training providers in the energy industry believe the focus on green technology could create thousands of opportunities for young people in the North East.
I think the opportunities over the next ten years are going to be fantastic. And I think the opportunities for younger people are that there's going to be a number of skills required to meet that renewable demand.
– Jim Lomax, Managing Director, Lomax Training Services