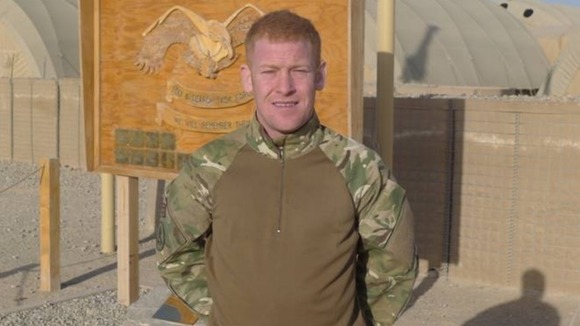 A Middlesbrough man has been named as one of two soldiers who were killed in Afghanistan on Friday morning.
Corporal Andrew Steven Roberts, who was a father of three, died after an explosive device, probably a mortar or rocket, was fired into his base in the Nahr-e-Saraj district of Helmand Province. Corporal Roberts was fatally wounded, as was another soldier from the Regiment.
Corporal Roberts was 32 years old and was born in Middlesbrough. He joined the Army in 1998 and had been serving as a Section Commander in 23 Pioneer Regiment The Royal Logistic Corps based in Bicester, Oxfordshire since 2008. He had served on operations in Bosnia and Iraq and this was his second tour of Afghanistan.
He leaves behind his parents, Pauline and Stephen, his girlfriend, Paula Ewers, three children Jessica (6), Kyle (5) and Kayla (3) and his brothers and sisters, Tracey, Mark, Darren, Michael and Emma.
For our brave Dad who went away to build sand castles and stop the bad men hurting people. We love you to the moon and back. You are an angel in Heaven now looking down on us all, we wish yesterday had never happened and you were still here to phone us and take us out. You were the best Dad, we remember all the fun things we did, we will never forget you and will love you forever. You are our Hero and we will pray for you always.
– Cpl Roberts' children Jessica, Kyle and Kayla
Andrew truly was a hero and I'm so proud of what he achieved, he was such a special, kind and caring person. I was blessed to have spent the past two and a half years with Andrew. He made me and my son Josh so happy. I have lost my soul mate and my best friend. The memories I have of our time together I will hold in my heart forever. Sweet dreams my hero all my love always.
– Cpl Roberts' girlfriend Paula Ewers

Corporal Roberts deployed to Afghanistan in March to command an Advanced Search Team in the Operations Squadron of the Explosive Ordnance Disposal and Search Task Force.

Last month he moved to the Nahr-e-Saraj district to support the 1st Battalion The Royal Welsh.

He was responsible for leading his men in the search for deadly Improvised Explosive Devices, saving lives by finding the IEDs before they could be triggered by other troops or Afghan civilians.
It was with great sadness that I learned of the deaths of Corporal Andrew Roberts and Private Ratu Silibaravi, two soldiers who were respected by their colleagues as much for their personalities as for their professionalism and commitment to duty. They have given their lives defending the UK's national security in a campaign vital to preventing terrorism from succeeding and spreading; their sacrifice will not be forgotten. My thoughts and deepest sympathies are with the two families, as well as friends and colleagues left behind."_
– Secretary of State for Defence, Philip Hammond MP

Corporal Roberts, who was described by the Ministry of Defence as a 'larger than life character, was a keen sportsman and a highly regarded Physical Training Instructor. He was a keen supporter of Middlesborough FC.

Corporal Roberts' colleagues paid tribute to him
A talented Junior Non Commissioned Officer, Corporal Roberts had leadership qualities in spades. He was fit and determined and set exactly the right example, truly inspiring his subordinates to do their very best. Quite new to the specialist world of Advanced Search, he had taken to this role with gusto and led a highly effective Advanced Search Team. His efforts were making a difference in Helmand Province.

During demanding times, both physically and mentally, here in Afghanistan, Corporal Roberts continually stepped up to the plate and proved entirely worthy of the authority and responsibility bestowed upon him as a Corporal. His upbeat, determined nature balanced with humour, humility and understanding allowed him to command his Advanced Search Team extremely effectively. His team were utterly reliable due to his professionalism and leadership abilities.His Regiment, The Royal Logistic Corps and the Explosive Ordnance Disposal and Search Task Force have today lost an inspiring and popular junior commander. He leaves a noticeable gap in our ranks here in Afghanistan and will be missed, but certainly not forgotten. His family and friends, and particularly his young children are in our thoughts and prayers at this time.
– Lieutenant Colonel Simon Bell, Commanding Officer Explosive Ordnance Disposal and Search Task Force
Corporal Roberts was an exceptional character; you never failed to know that he was around. He always had time to flash you his cheeky grin and to share a bit of banter no matter what the time, day or night. He was seldom happier than when busy with his Section, he loved being around them, the mark of a real leader.
– Major Ben Hawkins, Officer Commanding Operations Squadron, Explosive Ordnance Disposal and Search Task Force
Cpl Roberts was entrusted to lead a team in a highly dangerous role and in a hazardous environment. As the Commander of an Advanced Search Team, he displayed unstinting leadership. He was absolutely dedicated to the men under his charge, and they were devoted to him in equal measure. His energy was infectious and this permeated to every member of his Team. Resoundingly positive, he possessed a keen, dry humour which maintained the Team's morale in whatever circumstance they found themselves.

The Squadron has lost one of their finest. He will be sorely missed by all of us, but the loss felt by us cannot match that of his family. My most heartfelt sympathy goes out to his family at this most distressing of times.
– Major Derren Battersby RLC, Officer Commanding Operations Squadron, 23 Pioneer Regiment RLC
Corporal Roberts was a father who was very proud of his three children. He also spoke of his feelings for his girlfriend Paula and her son. Corporal Roberts will be sorely missed by anyone who was lucky enough to have met him. My thoughts go out to Paula, his children and parents.
– Lieutenant Lee Rickards, Troop Commander, Operations Squadron, Explosive Ordnance Disposal and Search Task Force
'Ginge' was one of the nicest, most down to earth blokes I ever had the pleasure of serving with. Always laughing and joking, he'd defend his beloved Middlesborough Football Club fiercely. My fondest memories of him always involve the quick witted comments he'd throw out at the guys when they were ripping him for supporting Middlesborough. 'Ginge', you will be sorely missed mate. We'll have one for you and our deepest sympathies are with his family at this incredibly difficult time.
– Lance Corporal Payne, Search Troop, Operations Squadron, 23 Pioneer Regiment RLC