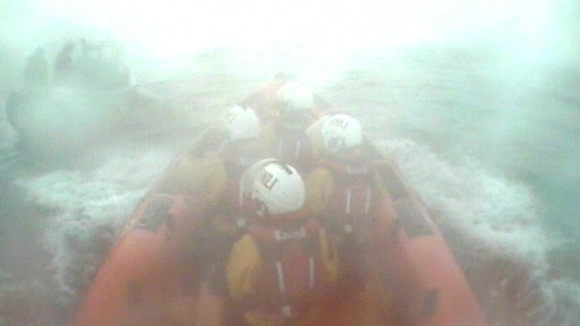 The rescue mission was launched shortly after 4:40pm on Monday 28th May 2012 when Coastguard Officers based at Humber Coastguard Marine Rescue Coordination Centre received an emergency 999 telephone call from the crew stating that their vessel was drifting after losing power in thick fog.
The lifeboat launched six minutes later with four RNLI volunteers onboard and was joined by a shore-based Coastguard Rescue Team from Sunderland who were dispatched to the scene to help aid the location from the shore-line.
Our initial search plan was to travel out to sea one mile and then search to the south. With visibility being restricted to less than 50 meters we were relying purely on our radar equipment to locate the stricken vessel
– Paul Nicholson, Senior Helmsman at Sunderland RNLI

While searching the area utilising the radar equipment onboard the lifeboat, the crew came across a second vessel. After speaking to the crew onboard it became clear that they had become disorientated in the fog and needed assistance to get safely back to Sunderland.

After confirming that the crew of the first vessel were safely at anchor, it was decided to escort the second vessel back into harbour before returning to sea to continue the search for the initial vessel.

During the passage back to Sunderland, the lifeboat crew sighted a red handheld distress flare through the fog approximately one quarter of a mile away so they immediately diverted to investigate. On arrival it was discovered to be the initial fishing vessel that the crew were searching for. Both vessels were then assisted to safety back to their own moorings at Deptford.
This incident highlights the importance of being well prepared to head out to sea. The RNLI recommends that all vessels should carry a marine VHF radio, basic navigation equipment, and marine distress flares. This will allow the boat owners to navigate safely in poor visibility but also provide accurate position information to RNLI in the event of an emergency.
– Paul Nicholson, Senior Helmsman at Sunderland RNLI

Watch RNLI rescue footage here on ITV News Online.