Herschelle Gibbs arrives in Durham
by Simon O'Rourke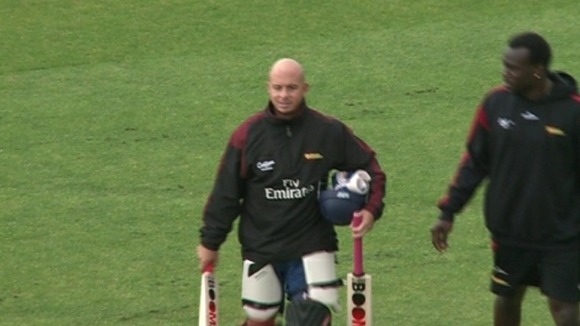 Have bat, will travel. Herschelle Gibbs is still one of the biggest names in world cricket. He's also part of a new breed of "freelance" cricketers who travel the world in search of short-term, big-money contracts.
The rise of the T20 format has split the world of cricket right down the middle. The traditionalists dismiss it as hit-and-giggle nonsense and worry whether it will spell the end of 5-day test match cricket. The pragmatists simply count the gate receipts and move onto the next fixture.
It's a global money-making phenomenon for World Cricket and the merry-go-round shows no sign of slowing down just yet.Herschelle Gibbs, one of the leading lights of T20, is typically blunt on the subject.
It'll be here as long as the demand is here, as long as people turn up and pay their money to watch it.
– Herschelle Gibbs

But perhaps surprisingly, it's not the 38-year old South African's favourite form of the game.
There's nothing comes close to the tension in the first hour of the first morning of a really big test match. Nothing at all. I played 91 tests for South Africa and I wish I'd made it to 100. But T20 is exciting. It's usually competitive, it's encouraged new skills and it's found a worldwide market.
– Herschelle Gibbs

Gibbs – the only man to score six sixes in a World Cup over – is now basically a full-time Twenty20 player.

He spent the winter playing in Australia's Big Bash, where he was a Perth Scorchers team-mate of Durham's Paul Collingwood, then in Bangladesh and finally in the Indian Premier League with the Mumbai Indians.
It's not always the easiest lifestyle, because you're on your own a lot of the time. But I suppose it suits me, the type of personality I am. I can usually mix straight in with the boys in the dressing room. I know Durham haven't started the season well, but sometimes a fresh face can make the difference and T20 is a confidence game. If we can get that confidence up early, you never know how far you can actually go in a competition so it's going to be interesting and testing with all the weather conditions around. But it should be exciting none the less.
– Herschelle Gibbs

Gibbs comes with a guarantee of excitement. His incendiary batting brings crowds to their feet. His incendiary lifestyle has often seen him in trouble with the cricketing authorities. Dark tales of marijuana smoking, drunk driving and match-fixing have blotted his career. But it's usually fun and Durham could do with some fun after a dismal start to their Championship season.

The South African's arrival in Durham helped soften the blow of losing Paul Collingwood for a month with a fractured hand. But the former England man WILL still be fit to take his turn carrying the Olympic Torch this weekend and Gibbs might just be the perfect man to light a fire under Durham's stuttering season.

Durham's T20 campaign starts this Friday (15th June) away to Yorkshire.

Watch Herschelle Gibbs full interview with ITV Tyne Tees Sports Correspondent, Simon O'Rourke here on ITV News Online: