Airport bids for £6 million towards expansion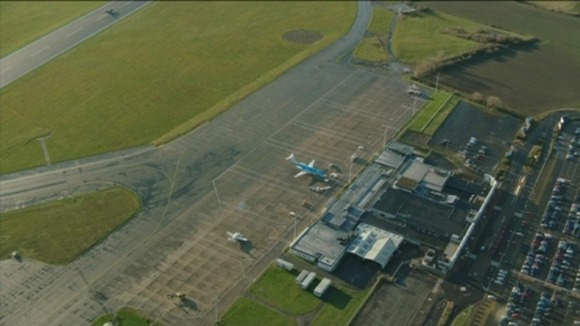 Durham Tees Valley Airport is applying for £5.9 million from the Government's Regional Growth Fund (RGF) towards plans it says would generate 1500 new jobs.
The 'Southside' project involves developing 150 acres of land to the south of the runway and will take around ten years to complete. Money from the RGF would be used towards the highways and services infrastructure.
This is a very significant project, not just for the airport, but the area as a whole and we have worked closed with the Tees Valley Unlimited Local Enterprise Partnership in the preparation of the bid. Since becoming the majority shareholder in the airport earlier this year we have made clear that it is vital for the future of Durham Tees Valley that we develop the full potential of the whole site and the funding we hope to gain through the Regional Growth Fund will enable us to provide a link between the existing airport activities on the north side of the runway and the new employment land to the south.
– Peter Nears, Strategic Planning Director for the Peel Group

Last month the sites new owners, Peel Investments, started a new marketing campaign to promote the airport, which has seen passenger numbers fall by more than two thirds in recent years as the choices of routes and airlines have declined.

The company director is confident about the companies future.
There is planning consent for aviation-related employment in the Southside area and the proposal we have submitted to the Government would generate around 1,500 new jobs. Whilst there are a wide range of possibilities for attracting businesses related to aviation activities, we expect that a key element in the development will be logistics services, given the proximity to the A66 , leading to the A1 and the national motorway network.
– Peter Nears, Strategic Planning Director for the Peel Group