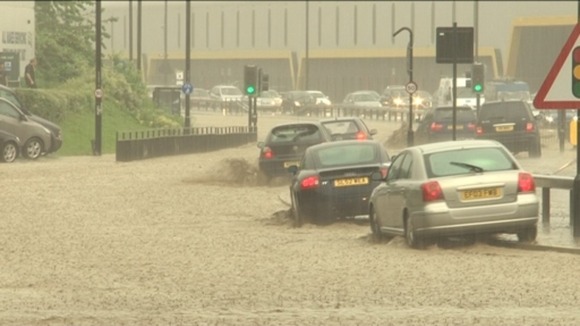 Storms and heavy rain has caused flooding across the region closing schools, roads and stations.
Northumbria Police have issued warnings to drivers to take care because of the dangerous driving conditions and standing water.
There has been localised flooding around Haltwhistle, Greenhead Bank and in places along the A69 and A68 in Northumberland.
There were been problems as the evening rush hour got under way with roads in the Newcastle underwater. The northbound Tyne tunnel is closed with only one lane in operation southbound.
Drivers are advised to take extra care when travelling, reduce their speed and exercise caution on the roads that are affected,
– Northumbria Police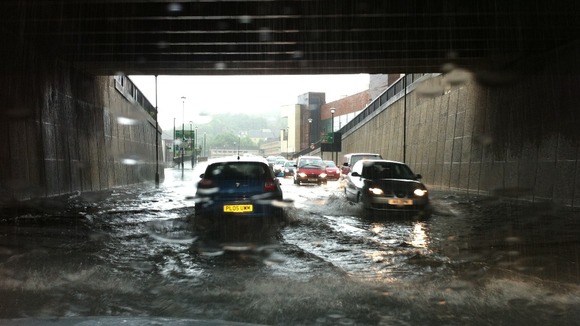 Shops have been closed across the region due to flooding and clean up operations are underway at Eldon Square and the Metrocentre.
Metrocentre and Eldon Square Shopping Centres have been affected by the freak thunderstorm, that has passed over the area.

Both centres remain open and a clean up operation is in place and will be for the remainder of this evening.

At both centres a number of stores are temporarily closed. Shoppers should contact individual stores to confirm that they are still open.

Metrocentre and Eldon Square recommend shoppers check their local transport links before starting their journey.

The safety of our customers is paramount and we can confirm that there have been no injuries at either centre as a result of the flooding.
– Metrocentre/Eldon Square

Many schools will remain closed tomorrow. The advice is to check with your school in the morning.

Flooding forced Newcastle Central Station to close and severe problems on the Tyne and Wear Metro service.

The huge Hoppings fair in Newcastle was closed having already had its opening postponed because of the weather.

Newcastle City Council said it would use the hashtag #toonflood on its twitter messages to keep people updated on how the storm was affecting the area.