Alan Shearer Foundation receives boost from Young Entrepreneurs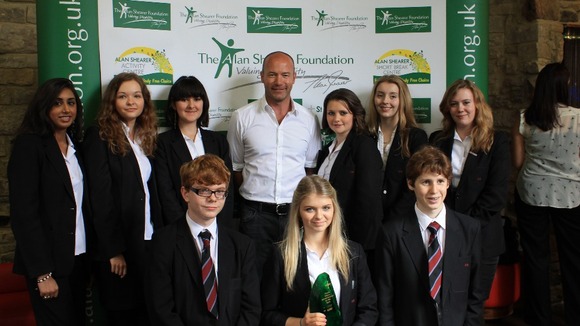 Running for a second year, all students taking part in the competition have been offered the opportunity to sit apprenticeship entrance exams with the company and the winning team will also be given a tour of the facilities at the Walker site.
We see apprenticeships as a great career path that can lead all the way to the top. I started as an electrical apprentice in Newcastle in 1983 and now oversee vital projects at wind farms from Cornwall to the Scottish Highlands and everywhere between.
– Martin McKenna, Head of Onshore Projects, Siemens

Each team received £250 from St Cuthberts Care last September with the view of using this to create income-generating projects. The winning team, Vision_, from St Thomas More Catholic School, Blaydon, raised a staggering £6,500 and took the trophy for the second year in a row, presented by Alan Shearer. In total, the competition raised £17,700, net of the initial seed money, with all proceeds going to the Alan Shearer Foundation.
We are delighted that Siemens is supporting this year's competition. Their decision to offer the apprenticeship entrance exams is a testament to the hard work of these young people; we are deeply grateful to both Siemens and the students for their support.
– Austin Donohoe, Chief Executive of St Cuthberts Care

The purpose of the Alan Shearer Foundation, launched just one month ago, is to raise a minimum of £250,000 to help to make a difference to thousands of people's lives with profound disabilities and sensory impairments.