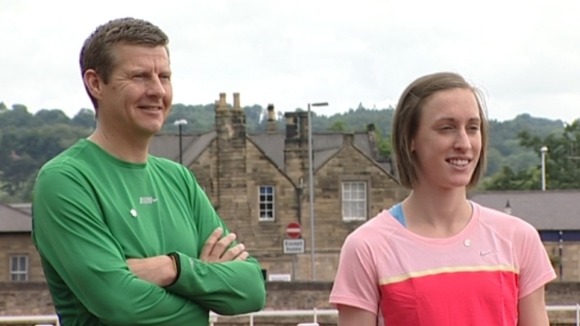 The 21-year-old, who's trained by Steve Cram in Hexham, won her place in the team after winning the UK trials in Birmingham. But despite being in the form of her life, she says qualification's come after a particularly tough year.
It's been hard as it's a very competitive event - especially in the GB team and especially last year when I suffered a knee operation that I had to have and with my asthma trouble but I have had a touch year and come through it strongly and this season I have performed welle so I knew if I put myself in the right place in the trials I had a chance of making the team.
– Laura Weightman

With her talent well and truly proved, all eyes are on the Alnwick born athlete a plumber's daughter, so keen to compete at the highest level, she approached Steve Cram for help at just 17-years-old.
I can only do so much for her, when you're out there on the track, you're on your own, especially for the 1500m which is very tactical, you need to be able to think on your feet. And I think she's proved she can do that in her career so far. And I think she'll do that in front of the 90,000 people cheering her on in London.
– Steve Cram

Among them will be Laura's mother Diana.
I'm not sure who it's worse for, her competing, or for me sitting in the stands with all the nerves and emotions that go with it, champing at the bit so to speak, but I knew she'd do it. I knew she'd get to the Olympics.
– Diana Weightman, Laura's mother

Laura will soon leave for London via Loughborough and a training camp in Portugal. She'll arrive at the Olympic Village on August 3rd, three days before her first race.