Thousands of runners and spectators travelling to the Great North Run in September face delays and disruption on the railways.
It follows a decision by Network Rail to close the East Coast mainline between Newcastle and Edinburgh on the weekend of 15-16 September. Travellers from Scotland will be forced to divert via Carlisle, adding up to 1.5 hours to their journeys.
"We're surprised and disappointed that it looks like the line is going to be closed north of Newcastle. It's the big weekend of the year for the North East. It's a showcase for the region and disruption like this we could all really do without."
– David Hart, Nova International

Organisers say around 3,000 runners from Scotland take part in Great North Run events each year, many travelling by train. They include Great North City Games and Great Junior Run on the Saturday, as well as the half marathon itself. On average, they bring another three people with them, meaning up to 11,000 people could be affected by the disruption.

NewcastleGateshead Initiative, which markets the city, says it could spoil a unique opportunity to show off the region.
"A lot of people, once they've experienced the city and the destination for the first time, come back because people are genuinely surprised and delighted by what the place has to offer. If people have a negative experience or something puts them off in any way, that's obviously going to be damaging for us."
– Cath Hindle, NewcastleGateshead Initiative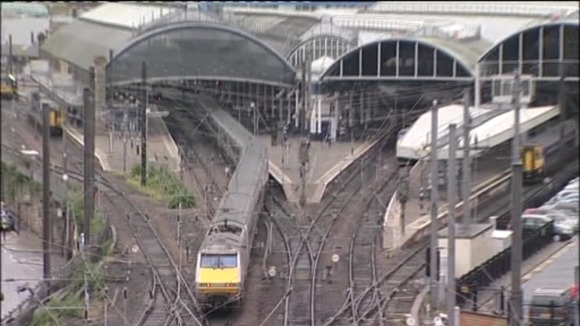 Network Rail says in addition to the Edinburgh trains diverted via Carlisle, replacement bus services will run between Dunbar, Berwick, Alnmouth, Morpeth and Newcastle. It says the work has been planned for many months, and is important because it will reduce rockfalls and improve drainage.
"We apologise to any participants in the Great North Run who have been impacted by these essential rail improvements. However the vast majority of people travelling to this event by train are unaffected as all routes intoNewcastle from the south and west remain open as usual."
– Phil Verster, Network Rail