Ed Miliband addressed a crowd of tens of thousands of union members and Labour Party supporters at the Durham Miners' Gala. He was the first Labour Party Leader to attend the historic event since Neil Kinnock in 1989.
Labour is coming together - both here and across Britain. We need that spirit now more than ever at a time when families, communities and our country are under such pressure.

A few years ago the Tories tried to say: 'we're all in it together'. But now we know they never meant it. Because we have seen what they do when they get back in power.
– Ed Miliband, Labour Leader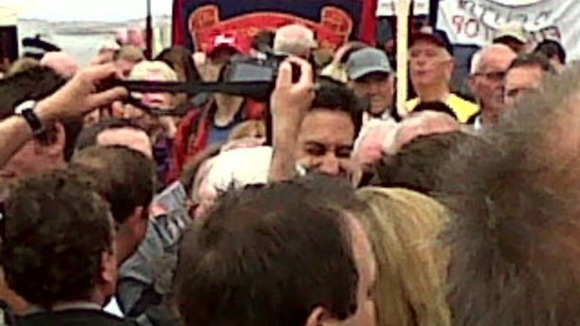 His used his address as an opportunity to attack the Tory Government and received a standing ovation from the crowd.
One rule for those at the top and another rule for everybody else. They cut taxes for millionaires and they raise taxes on pensioners. It's business as usual in the banks and small businesses go under. And the cruellest thing of all: they leave our young people without work *and without hope. *

I grew up in the 1980s. I remember the 1980s. I remember the lost generation of young people. And now under this Tory Government, we have another lost generation of young people. And all the time they try to divide our country. Between the public sector **and the private sector. But we know, that the public sector and the private *sector depend on each other. So when they stop building schools, it drives *construction workers in the private sector out of work. We are not the** private economy and the public economy - we are one economy.

And they try and divide our country between rich and poor. Between North and South. Same old Tories. Not building for the future but ripping up the foundations. Not healing our country, but harming it. Not uniting our country, but dividing it.
– Ed Miliband, Labour Leader

The Gala was the 128th to be held in Durham city. Eighty banners and 50 brass bands paraded through the city past the balcony of the County Hotel where Ed Miliband and other Labour MPs and Union leaders stood applauding.

Watch Julia Barthram's report from the Gala.

The gala developed out of the miners' trade unions. The Durham Miners' Association organised the first Gala in 1871 and it developed into the largest unofficial miners and trade union gathering in the UK. At its peak the Gala attracted over 300,000 people.

With the closure of the pits the event has become a community solidarity event but it retains its left wing politics. Most banners represent lodges of the National Union of Mineworkers in the Durham Area. However, other unions are now represented as well as Union banners from around the UK.