Sunderland RNLI volunteers divert from training exercise to rescue two anglers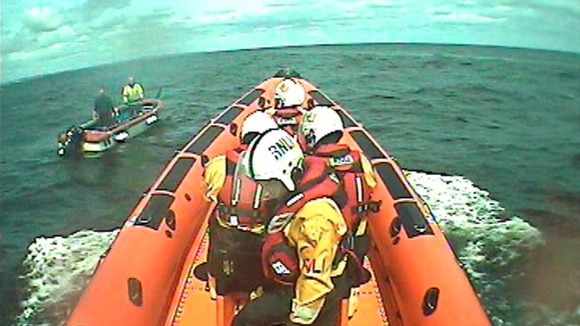 The rescue mission was launched shortly after 11:10am on Sunday when Coastguard Officers based at Humber Coastguard Marine Rescue Coordination Centre received an emergency VHF radio call from the crew stating that their vessel was drifting after engine failure 4 miles east of Seaham.
Officers immediately contacted James Jamieson, Launching Authority at Sunderland RNLI to request authorisation for the lifeboat to divert from its training exercise to attend the incident.After receiving launching authority approval the lifeboat diverted from its position ½ mile off Sunderland and made best speed towards the casualties reported position.
Thankfully the stricken vessel was well equipped meaning her crew were able to quickly provide us with an accurate position. On arrival the crew informed us that the recoil unit on their outboard engine had failed which meant they were unable to get back to shore without our assistance.'
– Sam Clow, Sunderland RNLI

After connecting a tow; the crew consisting of two men from West Boldon and their boat, were taken in tow by the inshore lifeboat and taken back to their own moorings within Sunderland Marina.

The lifeboat was then released from the incident to return to station where it was refuelled and made ready for service shortly after 1o'clock on Sunday.