TV Presenter Maggie Philbin lends a hand in Gateshead for the digital TV switchover
by Richard Salkeld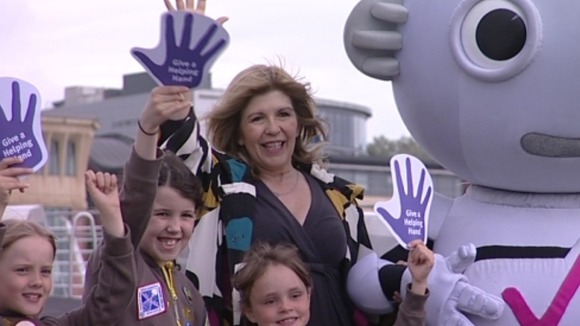 With just six weeks to go until switchover begins in September, Maggie is asking everyone in the region to think of older and disabled people they may know, and put them in touch with the Switchover Help Scheme.
Switchover is coming soon. Give a Helping Hand and remind older and disabled people in your area about the Switchover Help Scheme. Whether it's friends, family or neighbours, you never know, you may be the one person that they trust to give them good advice.
– Maggie Philbin, Broadcaster

To mark the launch of the Helping Hand campaign Maggie enlisted the help of the local 86th Newcastle Brownie group and 30th Newcastle Guides to encourage members of the public to pledge their support for the campaign. The guides were at Gateshead placing a purple hand print on a giant pledge board representing a promise to put someone they know in touch with the Help Scheme.

The Helping Hand campaign urges people to simply tell eligible people they know about the help available, help them fill out an application form or simply assist them in calling the Help Scheme so that they can get the help they are entitled to.
Digital switchover is happening across the Tyne Tees region this September and even if you're ready, you may have friends or neighbours who may be confused about what to do.

"The Switchover Help Scheme offers practical support to help older and disabled people convert one of their TV sets to digital.
– Emma Speed, Switchover Help Scheme, Regional Manager
People are eligible for help if they:
Are aged 75 or over, or
Have lived in a care home for six months or more, or
Get (or could get):
Disability Living Allowance (DLA), or
Attendance or Constant Attendance Allowance, or
Mobility supplement, or
Are registered blind or partially sighted.
Most eligible people will be asked to pay £40 towards the standard option of help which includes:
Easy to use equipment to convert one set
An approved installer to supply and install the necessary equipment, and
A 12 month aftercare service including a free helpline
A check on their TV aerial and replacement if necessary, where possible.
This service is free for people who are eligible and who also receive pension credit income support, income-based jobseeker's allowance or income-related employment and support allowance.