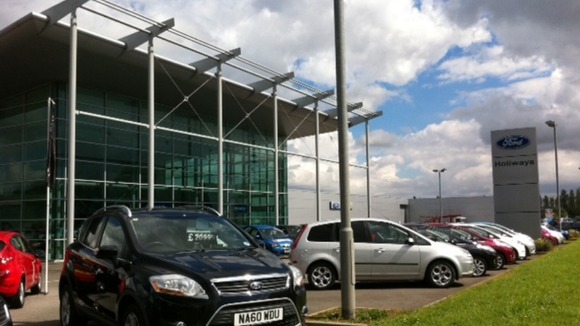 Several dozen workers have been made redundant at a County Durham car dealership which has gone into administration.
Holiways has sites in Newton Aycliffe and Bishop Auckland. The firm has seen a fall in business over the summer and the administrator says it simply couldn't continue to trade.
81 people have been employed at the two sites. The majority are expected to lose their jobs in the coming days.
Mechanic Neil Bell returned from holiday to learn the bad news.
I just had to quickly make some phone calls and just think about what I have to do for my family and try and get on with it as best I can. It's horrible.
– Neil Bell, Employee

Last month Holiways sold two of its sites in Hartlepool and Durham. They were bought by the national dealer Bristol Street Motors, saving a number of jobs.

But what are the prospects for the remaining Holiways' employees? Durham County Council says while times are hard, work is available in Newton Aycliffe.
There's a great deal of turbulence in the local economy. But nonetheless there are businesses on the Aycliffe industrial estate that are recruiting, that have got excellent future prospects and I would be cautiously confident that there will be plenty of job opportunities available there for the people affected by this announcement
– Stewart Watkins, Durham County Council

The administrator says it will be seeking a sale of Holiways' property and assets while winding down the business.