Countdown to digital switchover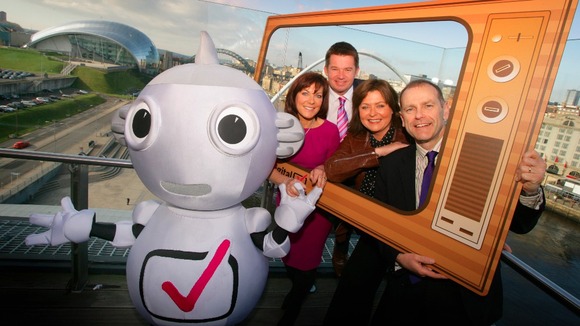 The analogue BBC Two signal in the Tyne Tees region will be switched off next week as part of the first stage of the digital television switchover.
From Tuesday 11th September into the early hours of Wednesday 12th September, engineers will switch off the channel's analogue signal from all transmitters in the region.
Viewers will need to retune their digital boxes from Wednesday. Satellite and cable services such as Sky, FreeSat and Virgin Media remain unchanged by the switchover.
The second phase of the digital switchover will take place on Wednesday 26th September when the remaining analogue channels; BBC One, ITV 1, Channel 4 and Five will be switched off.
Digital UK is offering free independent advice for anyone wanting information on the switchover.
It's exactly a week to go until the first stage of switchover when BBC Two analogue services will be turned off permanantly and new digital Freeview services will be available for all viewers. You need to retune your equipment, that's easy to do. All you have to do is press the menu button on the remote control, follow the instructions on screen but a tip for people who have already been watching, go for a first-time installation because you want to make sure you clear the memory in the box to get rid of all old information and get all new fresh information from the transmitter.
– John Askew, Digital UK

Some people will qualify for extra help and support from the Switchover Help Scheme