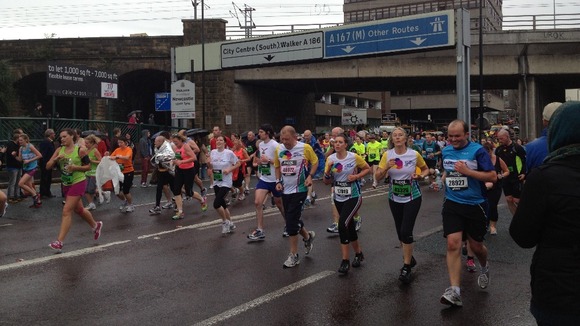 As 54,000 people take part in The Great North Run, celebrities are backing the runners by leaving messages of support on the social networking site, Twitter.
Spice Girl Melanie C wished she was taking part:
Actually feeling quite jealous of everybody doing the Great North Run today. Good luck to one and all #GNR
Sports stars left their messages for runners:
Good luck to all runners in todays Great North Run. Have a fantastic time and let me know how it was for you.Kelly #gnr2012 #worldsbesthalf
And good luck to everyone racing tomorrow!!! I'm so excited I don't think I'll be able to get to sleep! X
Good luck to everyone at the #GNR tomorrow !!!!
South Shields popstar Joe McElderry took part.
I'm up and getting ready! It's the great norrttth run day!!! X
Joe spoke to ITV Tyne Tees about running the race.
Comedian Patrick Monahan thanked people for supporting him.
Just done it! Thank you to all support! Finished 13miles about to jog back to start to make it a full marthon! @buparunning #happiestrun xx
Cast members from The Only Way Is Essex tweeted to James Argent, who is in the show and taking part in the run.
Some famous faces from Emmerdale were among the 55,000 runners.