Lifeboat crews in the North of England saw their number of call outs drop by 29% this summer. They're crediting the fall on the wet weather.
Crews in the North division launched 407 times this summer to rescue people in difficulty at sea, on the beach and, on one occasion, from a flooded caravan park.
Summer 2012 was the wettest for 100 years. Met Office figures for June, July and August show 370.7 mm of rain fell across the UK.
Our lifeboat volunteers tend to be busiest when the sun is shining and people are flocking to the coast. This summer, there weren't many days like that and we think that is the reason for the fall in lifeboat launches from 525 in 2011 to 407 this summer.
– Andy Clift, RNLI North Divisional Inspector.

Sunderland was the busiest RNLI station in the North of England division but figures were substantially down on last summer. Sunderland - 34 rescue launches (45 in 2011)Skegness - 30 rescue launches (27 in 2011)Blackpool - 28 rescue launches (22 in 2011)Seahouses - 22 rescue launches (25 in 2011)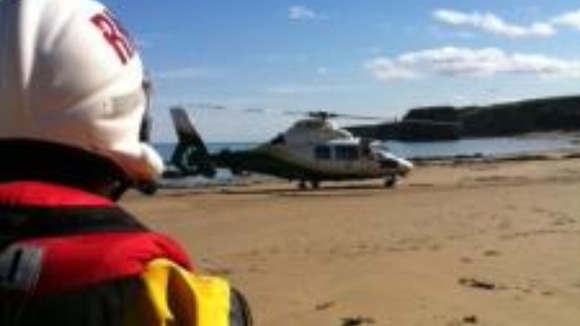 Some lifeboat stations - Skegness and Blackpool, for example - actually launched more times than last summer and right around the coast, RNLI crews were on call 24/7 throughout the summer season. Many rescues were carried out in bad weather or challenging conditions and once again, our charity owes a huge debt of thanks to our volunteers for giving up time with their families or at work to help save lives at sea.
– Andy Clift, RNLI North Divisional Inspector.

Across the UK and Republic of Ireland, RNLI lifeboats launched 3575 times this summer, two per cent down on last year's total of 3633.

The majority of summer lifeboat rescues are carried out close to land by inshore lifeboat crews. 2012 was no different, with 314 inshore lifeboat launches in the north (77 per cent of the total). Among the people saved were swimmers in serious difficulty, children on inflatables, kayakers who overturned and people walking on the beach who became cut off by the tide. Some of the worst sea conditions of the summer were encountered on 30 August, when Whitby RNLI launched in Force 7 winds to help a yacht in difficulties in the very rough seas. The yacht's five crew were suffering from sea sickness and wanted to head for the safety of Whitby harbour. However, conditions were so bad it was unsafe to enter the harbour and they were advised to head to Scarborough. Whitby lifeboat escorted the yacht until the crew were happy to go on alone. Then as the yacht approached the coast, Scarborough all-weather lifeboat launched and towed it safely into the harbour.
As well as the life-saving work carried out by RNLI lifeboat crews this summer, we should also remember the sterling efforts of our fundraising volunteers. Many fundraising events were hit by bad weather, some even had to be cancelled but others went ahead thanks to the fortitude and dedication of our community fundraisers who were happy to face the worst of the British summer weather to help raise money for our charity. The RNLI depends on people like them to fund our lifeboat service - without their hard work, our lifeboat crews would be unable to continue saving lives at sea.
– Andy Clift, RNLI North Divisional Inspector.