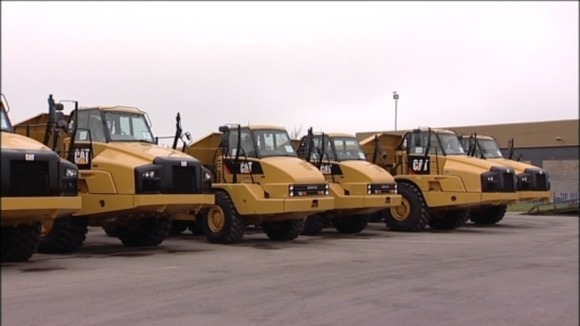 300 people are to lose their jobs at the truck production plant Caterpillar in Peterlee.
It comes just months after a visit from Business Secretary Vince Cable and the firm announced five million pounds worth of investment would go into the plant, along with plans to take on 100 workers.
Caterpillar say they are releasing temporary workers employed through the recruitment company Randstad.
These latest job losses come on top of the 70 temporary workers who were released three weeks ago.
"The economic and business environment that we are experiencing is different today from what we anticipated earlier in the year. After a good start to 2012 projected production volumes for our products are lower than we previously expected.

"Economic growth and demand from customers around the world has not reached anticipated levels. The ongoing Eurozone problems, and the looming financial uncertainty in the US have dampened business and consumer confidence.

"As a result of these factors, Caterpillar Peterlee is releasing approximately 300 temporary workers employed by Randstad, who previously performed roles throughout the factory. This is in addition to the 70 temporary workers released at the end of August.

"We regret the need to take this action but we need to align our workforce with demand and continue to position our business to be successful in the long-term."
– Caterpillar statement