Milo Barnett and Jade Graham are new to party conferences. The young Labour supporters are here for the first time and are clearly delighted to be part of the experience.
Milo is a 17 year old student from Hexham who is hoping to become a Northumberland councillor. Jade is 18, from Langholm in Dumfriesshire and is starting full time work.
Not surprisingly, youth unemployment is a major concern for both young people. Both put it top of their priorities for the Labour leader's keynote address.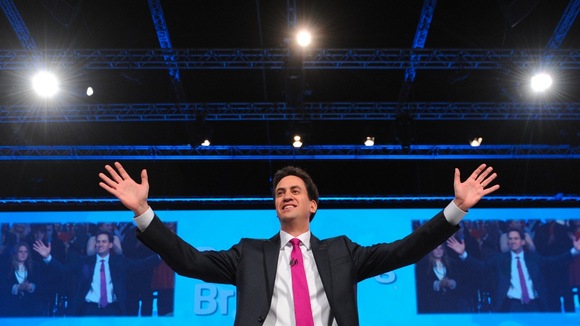 Sitting in the auditorium on Tuesday afternoon, the young delegates heard Ed Miliband say he wanted to talk to "a whole generation of young people, who feel this government is not offering them a future".
He set out plans to raise the standing of vocational qualifications; proposing the introduction of a 'technical baccalaureate' at 18.
Catching up with Jade and Milo after the speech, both told me they were delighted with the plans.
"He had some clear policies, such as the A level which is vocational, for tackling unemployment but also getting people back to work, which is giving them confidence in later life because without jobs people lack confidence, especially if they keep getting rejected."
– Milo Bennett

Mr Miliband had also referred to the possibility of Scottish independence in his speech, saying the countrywould be worse off as a result of a break-up. This too pleased Jade.
"It gives us all so much hope, especially people in Scotland. I know a lot of people are concerned about the divide and how the devolution affects us, from Motherwell to Manchester like he said, with the different qualifications and employment especially. I thought that was a major, major issue."
– Jade Graham

The two young delegates were convinced by what they heard; their party is hoping the same is true for the rest of the country.