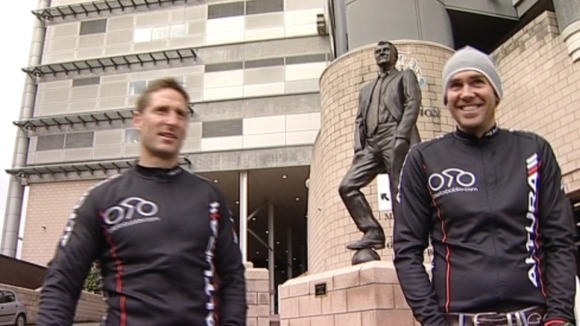 Newcastle United players Robbie Elliott and Phil Gray will cycle from Lisbon to Newcastle next week in support of Sir Bobby Robson's charity work.
The players are taking part in Bike For Bobby, which kicks off on October 17 in Lisbon and they will arrive back in Newcastle on November 11.
The event will see the two travelling more than 3,500 miles in less than four weeks, via Porto, Eindhoven, Ipswich and London (Fulham and Wembley), to raise money for the Sir Bobby Robson Foundation's chosen charities.
"The ambitious plan is to cover an average of 150 miles a day finishing, of course, at Sir Bobby's spiritual home of Newcastle United. The problem was I hadn't ridden a bike since I was a kid and didn't even have a bike when this started.

"But Phil has taken on the dual task of getting me fit for action and joining me on what will be the journey of a lifetime."
– Robbie Elliott, Newcastle United
"I've done a bit more cycling in the past and Rob got me involved to bring me up to speed on the cycling side of things and it's going well.

"There will be live feed on the websites, live video footage and we've got trackers that will track our progress as to where we are, giving information so it should be worthwhile checking in and seeing what's happening."
– Phil Gray, Newcastle United

You can find more information on the event's Facebook page and website.