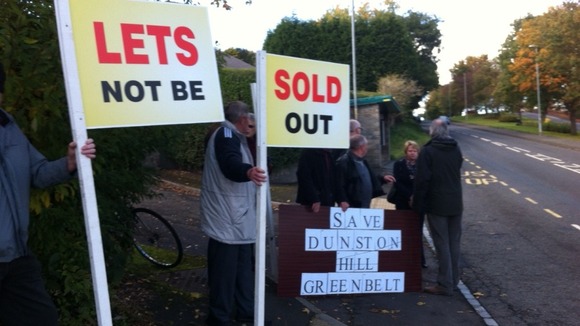 Gateshead Council is considering building 751 new homes in a greenbelt area in Whickham, as part of a larger housing plan.
They're hoping to build 13,200 new homes across the borough over the next 20 years to meet population growth.
They say the population has grown by 9,000 people in the last 10 years and the demand for homes is also growing due to reductions in average household sizes.
"Consultation on how Gateshead can best cope with an increased demand for homes across the whole borough closed on Friday. We are now working with communities before any decision is made on which sites could possibly see development. Decisions on our proposed final sites will not be taken until Spring 2013 and will be subject to a public inquiry likely to be held in 2014.

"We understand that a developer owns land close to Whickham Highway but any house building would be subject to the results of the decision next year, the public inquiry and the usual planning process."
– Paul Dowling, Group director of development and enterprise at Gateshead Council

The Whickham site is just one of many that the Council are considering, however the latest proposals have angered residents and almost 4,000 have signed a petition against the new plans.

They're concerned that a new housing scheme would seriously impact the greenland around Whickham and would have a negative impact on the environment, as well as causing a high level of congestion on the A1.
"It's been there all my life and I just hate to see the environment ruined. Why build so many houses? We got wildlife. People have Watergate Park there for recreation, they're going to spoil all of that.

"At the moment I take my daughter down to Emmanuel College in the morning. At the junction at the bottom I can be held up for easily five or ten minutes and that's most mornings, so the addition of I don't know how many more cars will have a big impact on that."
– Susan Searl, Dunston Hill resident

Gateshead Councillors won't narrow down the number of potential sites until 2013.