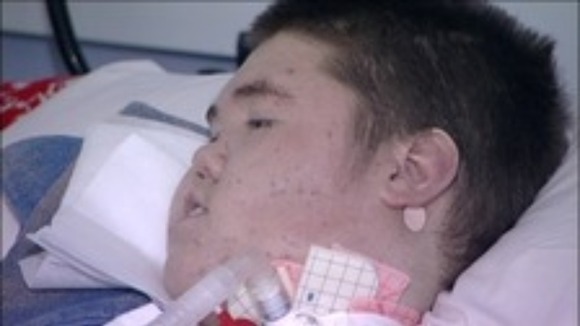 The family of severely disabled has written to the Prime Minister David Cameron after his benefits were slashed because he turned 18.
Liam Barker was born with a muscle wasting disease, which means he is unable to do anything but blink and smile.
He was not expected to live more than a few months but has defied doctors' predictions by reaching his 18th birthday.
But now he is an adult, his benefits have changed dramatically, even though his condition has not changed and he still requires 24 hour care.
The changes mean his parents receive 29 per cent less than before - £74 less a week. The electricity bill for his life support machine is £120 a month and the family say they are struggling to survive.
"WE WOULD PERSONALLY LIKE TO THANK YOU, FOR DESTROYING

A FAMILY, WHO CARE 24 HOURS A DAY FOR THEIR SEVERLEY DISABLED SON AND IS ON A LIFE SUPPORT MACHINE 24 HOURS A DAY AS HE IS UNABLE TO BREATHE ON HIS OWN. LIAM IS THE ONLY PERSON IN THIS COUNTRY WITH MYOTUBULAR MYOPATHY AND HAS CONFOUNDED THE MEDICS. THIS CONDITION AFFECTS ONE IN TEN MILLION BOYS AND LIAM IS THE LONGEST SURVIVING BOY IN THIS COUNTRY WITH THIS CONDITION WHICH IS TERMINAL AND LIFE THREATENING.

YET DESPITE LIAM BATTLING FOR HIS LIFE FOR OVER 18 YEARS, NOW HE HAS GONE FROM A CHILD WITH SPECIAL NEEDS, HE HAS HAD HIS DISABILITY BENEFITS TAKEN AWAY, FOR 13 WEEKS WHILE HE HAS BEEN ASSESSED. NOTHING HAS CHANGED SO WHY IS THE FAMILY BEING PUNISHED BY LOSING £73 PER WEEK, JUST BECAUSE LIAM REACHES A MILESTONE NOT EVEN DOCTORS THOUGHT HE WOULD EVER REACH.

WE AS A FAMILY ARE TOTALLY DISGUSTED WITH THIS INHUMANE ACT. WE

HAVE HAD TO BATTLE FOR EVERYTHING LIAM HAS NEEDED FOR ALL OF HIS 18

YEARS, NOW AFTER GIVING OUR SON SO MUCH DEVOTION AND 24 HOUR

INTENSIVE CARE, WE ARE AT OUR WITS END. LIAM COULD LOSE HIS HOME WHICH HAS BEEN ADAPTED FOR HIS MEDICAL EQUIPMENT. WHERE ARE WE SUPPOSED TO FIND A SIMILAR HOME IF THE LANDLORD DECIDES TO EVICT DUE TO RENT ARREARS. ALL THESE ISSUES HAVE RESULTED IN INTENSE STRESS TO US WHICH CAN EFFECT LIAM AND HIS CARE STAFF, BY WAY OF STRAINED ATMOSPHERE IN THE HOME.

WE ARE APPEALING TO YOU MR CAMERON AND YOUR MINISTERS TO HELP US TO CONTINUE GIVING LIAM THE BEST QALITY CARE WHICH HE SO RICHLY DESERVES THANK YOU MR/MRS PHILIP BARKER
– Letter to David Cameron, PM

The Department for Work and Pensions is assessing Liam's needs to see if he is entitled to further benefits. The family face a wait of up to 13 weeks for a decision.
"Benefit entitlement will inevitably change when someone moves from being a child to being an adult but we are committed to ensuring the most severely disabled people get the long term support they need.
– Department for Work and Pensions