Plans to cut the Children's and Maternity services at the Friarage Hospital in Northallerton are continuing to cause protest amongst its' members of staff and the local community.
The proposed cuts have also been criticised by Richmondshire Council as being presented as a "done deal."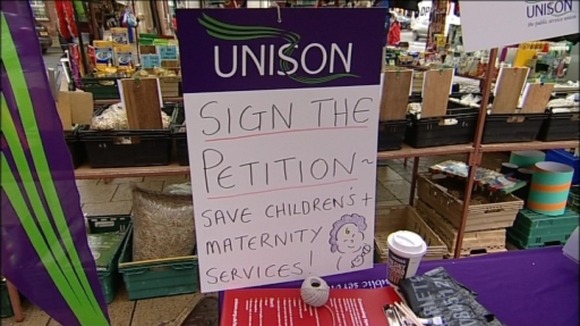 Staff from the hospital have spent the day drumming up support along the streets of Northallerton, and campaigning for signatures for their petition to stop the cuts going ahead.
In a meeting last night of Richmondshire Council members, they voted unanimously to call on the Health and Scrutiny committee of the county council to push for the plans to be re-examined by the Secretary of State for Health, Jeremy Hunt.
In the meantime, Richmondshire Council will be doing its' own research to prove that the services should not be cut. They will be looking into the work of other small hospitals in similar communities who have kept the frontline services.
We consider the local NHS, rather than dismissing out of hand the opportunity to continue with these hugely important services at The Friarage, and excluding this option from the forthcoming consultation on downgrading them, should be asking themselves the question if these small hospitals can do it, why can't we?

The evidence we collect from our fact finding mission is intended to prompt our local health chiefs to provide us, the local public their organisations serve, with their answer to this question.
– Councillor John Blackie, District leader for Richmondshire Council

For more information on this story, tune into the programme at 6 pm on ITV1.