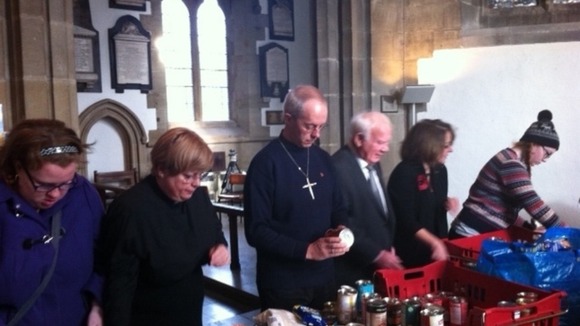 The Bishop of Durham says he will continue to work for the good of the North East in his new role as Archbishop of Canterbury.
Justin Welby was speaking the day after he was named the new head of the Church of England. He will take up the post next year.
Bishop Justin joined volunteers from a range of churches on Wearside, as they prepared food parcels for people in need.
Speaking later, the Bishop said he would be leaving the North East with 'huge regret' and described the 'great privilege' of living and working in the region.
During his time as Bishop, Justin Welby has been closely involved in efforts to regenerate the North East economy. He said he was confident the area can continue that process.
The region has the capacity in itself to deal with its own problems. This is a region of real talent and excitement.... That will provide the raw material for the spiritual and economic regeneration of this area.
– The Right Rev Justin Welby, Bishop of Durham

Bishop Justin said that once installed as Archbishop of Canterbury, he would continue to support efforts to develop the northern economy.

And what has the Bishop learned during his time in the North East that he can take to his new role?
I think what I have learned is a lot more about community, about the impact of industrial and economic change and how communities rise above that. Quite a lot about courage ... and also a real confidence that God changes things.
– The Right Rev Justin Welby, Bishop of Durham

Watch Helen Ford's full interview with the Bishop of Durham: