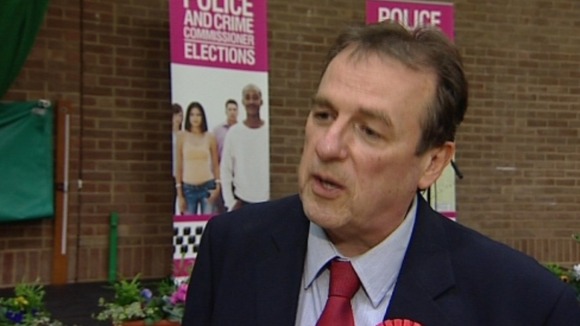 Labour's Barry Coppinger says he is looking forward to taking up his new role as Police and Crime Commissioner for the Cleveland Police area.
The force has found itself in the spotlight over recent months and years for all the wrong reasons.
Its Chief Constable was sacked for gross misconduct and Operation Sacristy - an investigation into alleged corruption is continuing.
Claire Montgomery reports from Teesside, where there was another low turnout:
Cleveland's Police and Crime Commissioner elect, Barry Coppinger,outlined his plans in an interview with ITV Tyne Tees:
"I've visited quitea few police officers over recent weeks, I've talked to them, I've spoken totheir representatives.

"My intentions now are to visit every neighbourhoodpolicing area in Cleveland over the next year to hear about their localconcerns.

"I also want to visit every service unit in Cleveland Police, to talk directly for the people who work for Cleveland Police, so that I understand how they are feeling and together we try and move forward and if there are any difficulties that I canhelp with, I am more than happy to do so.

"But it is important now that we draw a line and move forward and I am itching to get started."
Turnout in the Cleveland area was 15.12 per cent.
Barry Coppinger won with a total of 31 340 votes compared with the Conservative candidate, Ken Lupton, coming second with 20 171 votes. 63 431 valid votes were cast.
Fellow candidates Sultan Alam (Independent) and Joe Michna (Green) were eliminated when second preference votes were taken into account.
Returning Officer, David Bond, says he is disappointed by the turnout and believes it may prompt the government to look at how it plans for similar elections in the future.
"I think in terms of the future, clearly people in government and so on will want to look at how this has worked out as an election overall and one will want to look to the future in terms of how they plan for similar elections for Police and Crime Commissioners going forward."
– Returning Officer, David Bond

Find out more on the Police and Crime Commissioner elections here.