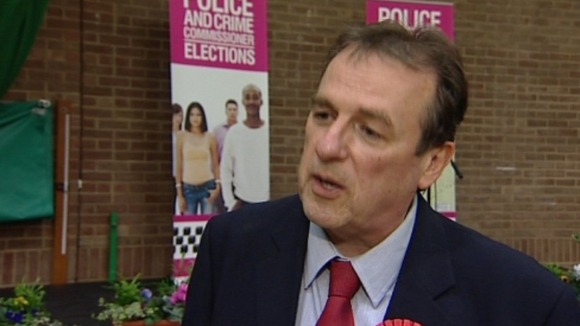 Cleveland's Police and Crime Commissioner elect, Barry Coppinger, has outlined his plans in an interview with ITV Tyne Tees. Here is the full interview:
"I'm delighted at the results. I'm delighted that I have got a mandate from all four of the boroughs in the Cleveland area, which is really important.

"I'm delighted that despite the fact there has been failings in the way this has been conceived, developed and organised, I think we have seen progress here today.

"We have seen lots of people coming out to vote, we have seen a well organised election process, which is important.

"I'm particularly keen now that we move the Cleveland force forward, that we work together with our partners to reduce crime and antisocial behaviour, to develop neighbourhood policing, to deter people from offending and reoffending, that we work to coordinate the work of agencies and we work for good industrial and community relations, that is my agenda."
ITV Tyne Tees: How can youbring back confidence in the police force for people living here?
"I've visited quite a few police officers over recent weeks, I've talked to them, I've spoken to their representatives.

"My intentions now are to visit every neighbourhood policing area in Cleveland over the next year to hear about their local concerns.

"I also want to visit every service unit in Cleveland Police, to talk directly for the people who work for Cleveland Police, so that I understand how they are feeling and together we try and move forward and if there are any difficulties that I can help with, I'm more than happy to do so.

"But it is important now that we draw a line and move forward and I am itching to get started."
ITV Tyne Tees: Do you think you are taking on a poison chalice?
"No, I don't think it is a poison chalice. I think there have been difficulties, there is no doubt about that. But there is a lot of good work going on in Cleveland Police on a day-to-day basis.

"It still has some of the highest Force confidence figures in the country, it is still respected by a lot of people out there in Cleveland who see their officers doing the job on a day-to-day basis, so I think we can move forward and I'm looking forward to it."
Find out more on the Police and Crime Commissioner elections here.