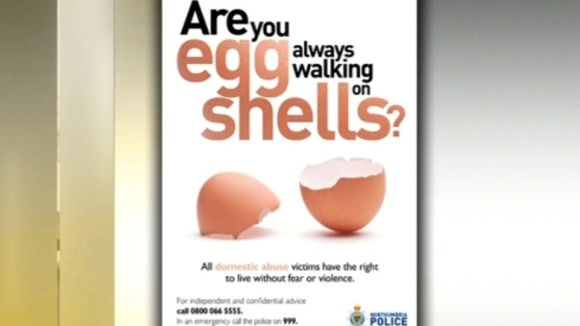 Are you always walking on eggshells? That's the question being asked by Northumbria Police, as they launch their Christmas campaign against abuse in the home.
Police say that when talking to people who've suffered domestic abuse, they commonly describe their daily situation as like 'walking on eggshells'; unable to carry out simple tasks without sparking the anger of their partners.
The force is hoping the campaign will raise awareness of all forms of domestic abuse and encourage victims to come forward for help. They are keen to stress that abuse can take many forms.
Violence is often associated with domestic abuse and it can be violent but often women are oppressed in a number of ways; not allowed money on their mobile phone, not allowed to go and see their friends, told that they're hopeless at everything they do and undermined deliberately to keep them a prisoner.
– Vera Baird, Northumbria Police and Crime Commissioner

In the 12 months to the end of July 2012, 27,066 incidents involving domestic abuse were recorded by Northumbria Police but they say many crimes go unreported. According to Vera Baird, domestic abuse is often a 'silent crime'.

One place where help and support is available to women and their children is at a refuge. One woman, who escaped a violent partner, is urging others to consider this option.
I just need people to know that there is this place where you can get help, change your life around, start a fresh new life and you are worth it so make this jump.
– 'Heather'

Leaving the family home can be a daunting decision. The message, in the run up to Christmas and beyond, is that help is available for anyone forced to take that step.