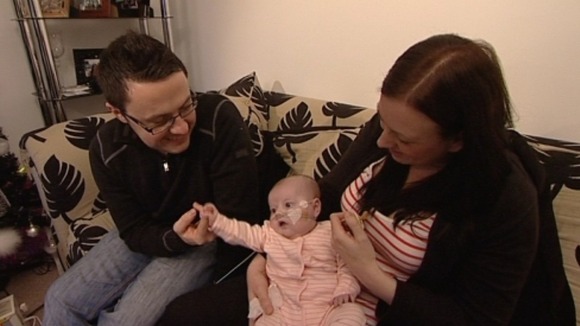 A baby girl who underwent open heart surgery when she was just 30 minutes old has been allowed home to spend Christmas with her family in West Allotment, Newcastle.
Jessica Muse has spent her entire life in hospital, but her parents have now been allowed to take her home for the first time.
Jessica was born with hypoplastic left-heart syndrome, a life threatening condition, effectively leaving her with only half a heart.
The five-month-old has been treated at The Children's Heart Unit at the Freeman Hospital and is one of the youngest patients ever to undergo the operation.
"It's amazing! We didn't think she would be allowed home until next year but the hospital said she can come home for Christmas."
– Dom Muse- Jessica's father

Jessica still needs a number of operations and will have to have a heart transplant at some point in the future but for now the family are just happy to be together.