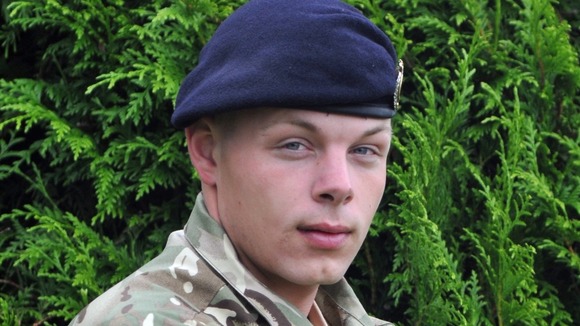 The Ministry of Defence has named the soldier killed in Afghanistan as Sapper Richard Reginald Walker from 28 Engineer Regiment.
The 23-year-old, from Wearside, was shot in an apparent 'insider attack' by a member of the Afghan National Army (ANA) at Patrol Base Hazrat in the Nahr-e Saraj district of Helmand Province on Monday January 7th.
He was working on a construction task with other military engineers from his Troop, as part of the preparations to hand the camp over to Afghan security forces, when the Afghan soldier turned his weapon on soldiers at the base.
Sapper Walker was a former Washington School pupil. An avid football fan, he represented his Regiment at football and spent endless hours in the gym.
Above all he was a devoted father and would talk for hours on end about his love for his daughter Lilly-Faith, who sadly he only knew for 18 months before his deployment to Afghanistan.
"Richard held two things close to his heart – his daughter and his colleagues in the Army.

A proud, patriotic man, he died doing a job he loved, supporting his friends".
– Statement from Sapper Walker's family
"Sapper Walker was the epitome of a true Sapper, one who would roll up his sleeves and get on with the task in hand no matter what, but importantly he would do it with great humour.

He made sure that he made the most of every opportunity, both in the Army and at home; it is without doubt that he had a lot to offer and a bright future.

He was hugely respected as a fit, professional soldier with a massive character.

This was his first tour of Afghanistan but anyone would have thought he was a seasoned expert, such was his ability and professionalism."
– Lieutenant Colonel Chas Story RE, Commanding Officer, 28 Engineer Regiment
"His tragic loss has stunned the whole Engineer Group and we are all trying desperately to come to terms with this awful event.

Our heartfelt condolences are with his family and friends at this terrible time, most especially his young daughter Lilly-Faith."
– Lieutenant Colonel Jack Nicholson RE, Commanding Officer, 21 Engineer Regiment
"I was deeply saddened to learn of the death of Sapper Richard Walker.

The tributes of his colleagues speak of a popular, committed soldier who was devoted to his unit and a dedicated family man.

I send my deepest condolences to his family and loved ones at this sad time."
– Secretary of State for Defence Philip Hammond MP