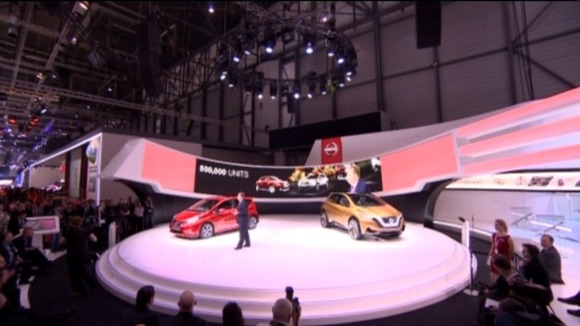 Nissan has unveiled two new models that will be built at its plant on Wearside. They include a revamped edition of the Note and a facelift for the electric Leaf.
The cars were revealed at the Geneva Motor Show in front of an audience of journalists and representatives from the motor industry.
Production of the new Leaf will begin later this month, with work starting on the Note in the summer.
The launches come at a difficult time for the car industry, with European sales falling last year to their lowest in a decade and a half.
To some extent it can't get much worse than it is today. The market's declined quite substantially but one thing I think is important to mention is Sunderland is obviously in the UK, and the UK market in fact is one of the strongest markets in Europe over the past couple of years. Nissan has had a record market share in the UK this year."
– James Wright, MD Nissan UK

The company's Washington plant now employs a record 6,100 people. Ten of those staff were in Geneva to help launch the new models.
"It's good for people from the plant to get to see something like this, basically because we do the development; these other people do the marketing and the selling so it's very interesting."
– Garry Chapman, Nissan Sunderland

Over the next three years, Nissan is planning to launch another 13 models in an effort to win a larger share of the shrinking European car market.

It is estimated that for every job at Nissan, another three or four are generated in the supply chain. The future of this global company continues to have huge impact on the economic fortunes of the North East.