Charity bus inundated with customers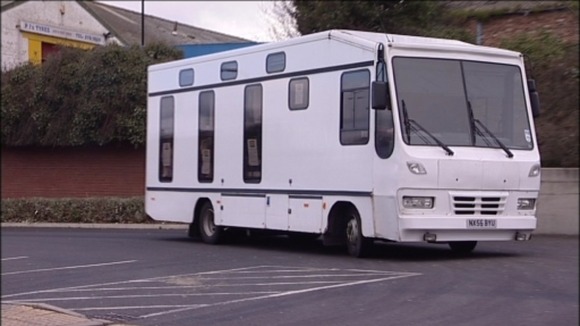 A charity which travels the North East offering second hand items for 5p says demand for the service has risen sharply.
St Cuthbert's Care sells clothes, bedding, toys and books from a converted bus. It now stops at 200 locations every month, from Amble and Haltwhistle in Northumberland to Teesside.
The charity says it's seeing a big increase in the number of people visiting the bus. It says some families who were once comfortably off are now struggling on limited budgets.
"There's a lot of people even when they're in work are still right on the edge of poverty, they find it hard to make ends meet. It's all they can do to provide food for their family.

"They can't afford to go to big stores to buy clothes for their children who are growing out of things constantly."
– Len Dolphin, driver

The charity says there are several benefits to running the shop from a bus. Costs are lower than being based in a building. Secondly, the bus can target the places in greatest need. Despite this, St Cuthbert's Care says the rising cost of fuel is putting a strain on its costs.

The '5p Bus', as it's known, is stocked entirely by donations from schools, churches and businesses.

The charity says that by charging a small price for each item, customers feel they are still making a purchase, rather than being given a free hand-out.
"I think the dignity is still there for people. People want to still pay for something and 5p is very manageabe for some.

"It is still steep for some people, 5p, if they have very, very little money but for most, people can afford to buy 5 or 6 items or 10 items or whatever and know they still have some money left over for their groceries and other things."
– Moira Ashman, Deputy Chief Executive of St Cuthbert's Care

Anyone wanting more information can call 0191 228 0111 or visit www.stcuthbertscare.org.uk