Seagulls nest in train station car park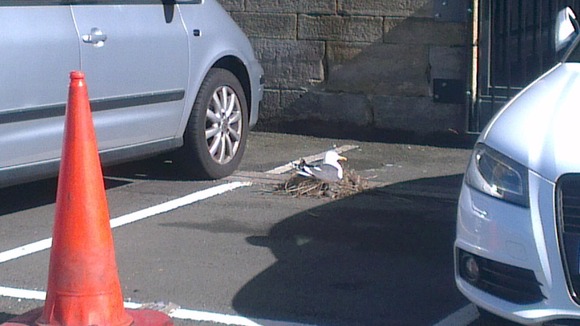 Two expectant seagulls have nested in a car park bay at Newcastle Central Station - and it could be six weeks before the birds and chicks are gone.
The birds' nest was discovered in the station's long-stay car park a few days ago during a routine security patrol. By law the birds cannot be moved during their nesting season so they must be left undisturbed until the chicks hatch and are able to fly.
Station Manager Louise Rutherford said:
"It's against the law to touch or move the nest, so we've coned off the parking space and we'll be keeping an eye on things to make sure they're kept safe and sound.

"We're also asking drivers using the car park to take care around the birds as we're told they can be quite aggressive in protecting their young."
– Louise Rutherford, Station Manager at Newcastle Central Station

All birds are protected under the Wildlife and Countryside Act 1981 during their nesting season. Under the Act, it is illegal to damage or destroy an active nest or its contents.

Royal Society for the Protection of Birds (RSPB) spokesman Chris Collett said:
"At this time of year we get reports of birds nesting in all kinds of weird and wonderful places from traffic lights to ashtrays. One bird even nested at a level crossing!

"It is important to remember that all wild birds are protected by law and that it is illegal to intentionally destroy or damage a nest. We would urge people to take particular care in their gardens at this time of year, and to hold off on any pruning until after September."
– Chris Collett, RSPB spokesman