One year until Tour de France comes to Yorkshire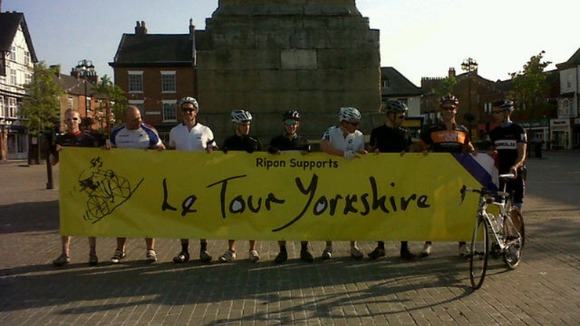 Cycling enthusiasts in Ripon are marking the year-long countdown to the arrival of the Tour De France by riding 130miles of the route.
The world's greatest cycling race will come to Yorkshire on the 5th and 6th of July 2014.
Ripon is preparing to hold its own celebrations as the event passes through the city. In anticipation, a group of cyclists are following Stage 1 of next year's Grand Depart Route. They will pass through Harrogate and the Yorkshire Dales.
Al Little said they are promoting Ripon's efforts to welcome the Tour:
"We wanted to see what the cyclists will experience but we will take our time, so we don't miss out on some of the sights. It will be a fantastic occasion next year and we are really looking forward to it."
– Al Little

Shop owners too are entering the spirit.

Welcome to Yorkshire, the region's tourist board, believes the event will bring a bonanza for local businesses as it attracts hundreds of thousands of supporters. It is watched on television by an estimated 3 billion people.