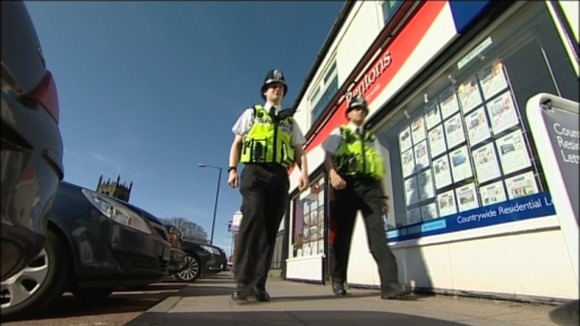 New figures indicate that crime across the North East has fallen slightly. The statistics, for the year to September, reflect the picture across the country.
Behind the headline, these police-recorded statistics paint a varied picture of crime across the region. Cleveland, North Yorkshire and Durham police all saw overall falls of between one and five per cent. Durham, though, experienced a substantial rise in sexual offences.
The Northumbria force saw a 1% rise in overall crime, which the force describes as 'marginal'. Domestic burglary increased by 8%.
Northumbria's Deputy Chief Constable Steve Ashman said:
"This has to be viewed against 18 consecutive years of crime reduction, which in the last 10 years has seen a 60% reduction in crime. We are continuing to experience rises in some categories of acquisitive crime such as burglary, which clearly is a priority for us as well as concentrations of shoplifting ..."
– Deputy Chief Constable Steve Ashman

Forces are keen to point out that the figures are already out of date.

Durham's Police and Crime Commissioner, Ron Hogg, believes crime is now rising, partly as a result of austerity.
"I am saying it's a factor and it's certainly a factor that we're measuring. Certainly our figures would suggest strongly there's a direct corrolation. We're continuing to work on that and hopefully we'll have some more robust figures in the future."
– Durham Police and Crime Commissioner, Ron Hogg

More broadly, questions remain over the reliability of police-recorded figures. Last week, the UK Statistics Authority stripped them of an official seal of approval.

Watch a full report here: