Transplant success: Kidney patient calls for more to join the donor register
by Julia Barthram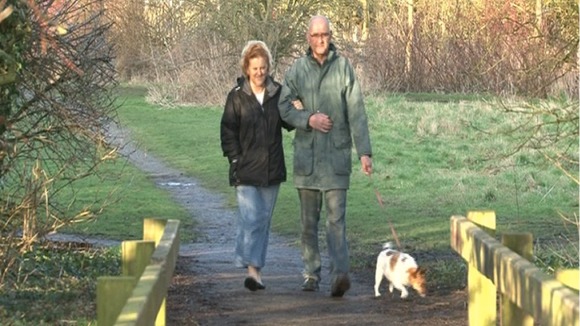 Karen Williams is out walking her dog, hand in hand with her husband Jez. It's something that has been impossible for more than a decade. Karen suffers from a degenerative kidney disease and has been on dialysis for 12 years. It's meant travelling from her home in Thirsk to Darlington three times a week for long and tiring dialysis. It left her without the energy. Then, late last year, an unknown donor offered their kidney for transplantation and Karen was a match.
Under the terms of the pooled kidney donation programme someone Karen knew had to donate a kidney in return. Her husband Jez agreed and on January 6, the transplant took place at the Freeman Hospital in Newcastle.
The operation was a success and Karen's donor kidney began working immediately. Just four weeks after the operation she already has more energy.
"I'm feeling brilliant, a lot better than I did before. I've definitely more energy, more energy to play with my granddaughter, she's noticed a big difference."
– Karen Williams

Now she hopes her story will encourage more people to join the organ donor register.140 kidney transplants were carried out at the Freeman Hospital last year, 51 of them came from live donors. 280 people are still on the waiting list in the North East alone.
"If it hadn't been for somebody coming forward and donating a kidney I'd probably still be on dialysis but it's been a total life change for me and it's lovely."
– Karen Williams