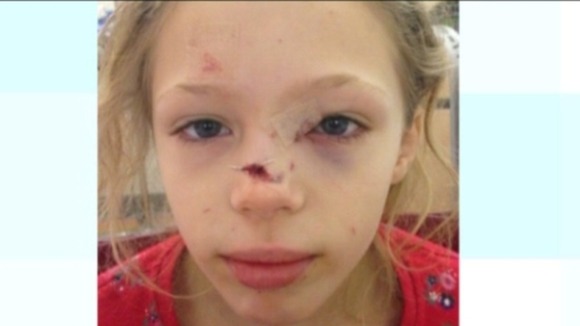 Police will be on the streets of Stanley in County Durham this evening in their hunt for the person responsible for what they're calling a 'mindless incident'.
Abbie Keers was a passenger in her grandmother's car, when it was hit by a bottle, thrown from the roadside. It shattered the window, showering glass over Abbie.
At the time, the family was travelling on the A693 through Stanley, on their way to hospital with Abbie's younger sister.
Cut and bleeding from her ordeal, Abbie was then rushed to hospital where she had plastic surgery for her injuries.
"I couldn't believe what had happened at first. Just seeing Abbie's face was the biggest shock. It was horrendous. I felt so helpless because I couldn't do anything for Abbie because she had glass in her face, you couldn't put pressure on to stop the bleeding."
– Sandra Webb, Abbie's grandmother

Exactly one week on, Abbie has made a remarkable recovery. The scars on her face are fading though she says she is still in pain from the injury to her nose.

Police says they are determined to catch the person responsible for hurling the bottle. They are renewing their appeal for information.
"The community of Stanley know who is responsible for this. I believe somebody definitely knows the name of the person. I would appeal to their conscience to come forward, do the right thing and help us to find the person and speak to the person responsible for this."
– Inspector Michael McGowan, Durham Police

Watch my interview with Abbie and her grandmother here: