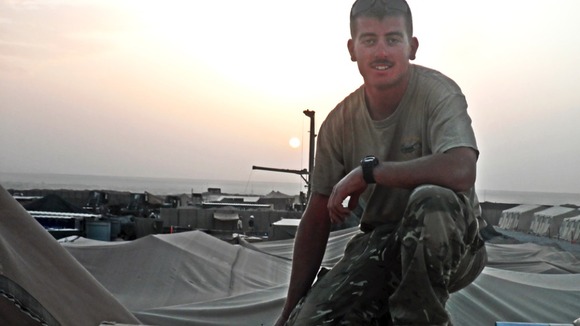 Sapper Adam Moralee becomes first British soldier to die in Afghanistan in 2014
23-year-old from Newcastle was due to be married
Family calls him a "loving son, who treated his fiancee like a princess"
A soldier from Newcastle who died in Afghanistan "would not have swapped his experiences as a soldier for the world", according to a tribute from his parents.
Sapper Adam Moralee, 23, was born in Newcastle and was a keen football fan. His colleagues said there would not be a Newcastle United match where they did not think of him.
The Ministry of Defence confirmed that Sapper Moralee did not die in battle. He was fatally injured at Camp Bastion on Wednesday, 5th March, while preparing equipment for redeployment out of Afghanistan.
"He treated his fiancee like a princess"
Sapper Adam Moralee was due to be married to his fiancee, Emma. His parents, Lynn and Darren, said the love they shared "was clear for all to see" and to be his wife "would have made her feel like the luckiest girl in the world".
Adam was a loving son, fiance, and friend who touched everyone's hearts that came into contact with him.

"His passion for cars and anything with an engine made him a true petrol head through and through.

"As a son he was full of life and always the joker of the family, who never took anything too seriously. He loved his job and the friends he made from his time in the Army, and he would never have swapped those experiences for the world.

"He treated his fiancee, Emma, like his princess and the love they shared was clear to all of those who were lucky enough to see it.

"To be his wife would have made Emma feel like the luckiest girl in the world and they were each others' one true love and soul mates.

"Adam touched the hearts of all of us who were lucky to know him and not a day will go by where he is not in our thoughts and hearts. He will be sorely missed by family and friends and forever loved by all. Rest in peace son!"
– Lynn and Darren Moralee, Sapper Moralee's parents
Joined the British Army aged 17
Had been in Afghanistan since September
Superiors describe him as "a role model to all"
Sapper Moralee's best friend, Lance Coroporal Karl Crosbie, served in the same regiment and was due to be best man at his wedding. He said Sapper Moralee felt like a brother.
From the outset, it was clear that I had met a truly caring best friend and brother who would have done anything for me.

"Adam and I were inseparable; we did everything and went everywhere together. We were always seen as a pair almost as if we were joined at the hip.

"From the first day when he arrived and moved into the same room as me, we shared many happy memories during our time together.

"He was a very popular man and was known by everyone within the squadron. We served in the same section on Operation Herrick 14.

"One thing that will forever stand out amongst many amazing memories is his love for doing body building poses and from where he got his nickname Massive.

"Such was our friendship that he asked me to be his best man for his wedding to his fiancee Emma; I was deeply honoured. We were very much like brothers and I will miss him very much. We will meet up again one day Massive."
– Lance Corporal Karl Crosbie