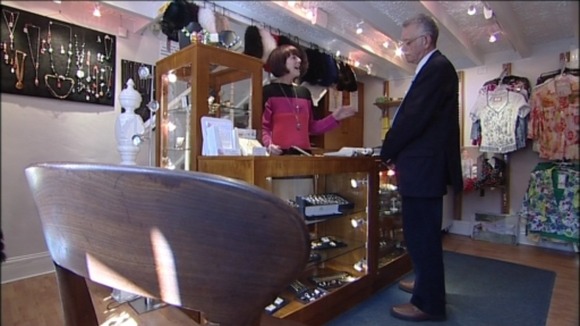 Nestling in the Tyne Valley, Corbridge has long been known as a place to visit and to shop.
Now, it has another aim: to become one of the country's first 'dementia friendly' communities.
The scheme is co-ordinated by the charity, the Alzheimer's Society. It wants to create a network of towns, cities and villages where people with dementia can feel safe and supported.
One of the first priorities in Corbridge has been to provide training for traders, giving them guidance in assisting someone with dementia.
Joyce Anderson, who runs a jewellery and clothes shop, is among those to receive the informal training. She says the aim is to treat all customers with dignity and respect.
"One of the common things that happens is that the person with dementia might get confused about the money that they've got, or their card or their pin number. It's making sure that we say things like 'oh I forgot my pin number last week and I put my card in the wrong way round too' and perhaps just a touch on the arm or a bit of comforting reassurance and giving people time."
– Joyce Anderson, Corbridge Traders' Association Chairman

An estimated 800,000 people in England, Wales and Northern Ireland are living with dementia. The brain condition can lead to memory loss and can also affect thinking, problem solving and language. The Alzheimer's Society is concerned that many people with dementia become isolated.
"When people receive a diagnosis it can knock their confidence in terms of them still making use of facilities in their communities. We really want to try and avoid that and make communities more inclusive for people with dementia."
– Amy Syron-Mallenby, Alzheimer's Society

Ken Clasper has lived with dementia for many years and now helps to raise awareness of its effects. He says shopping can be a daunting experience.
"Your brain is running to try and work out what you want and it's easier if you've got signposts pointing you in the right direction so you don't have to panic.

Sadly in a lot of shops people don't understand dementia and you're treated with the old stigma: is it contagious?"
– Ken Clasper

While Corbridge is not alone in working towards dementia friendly status, it is seen as a flagship for the countrywide project.

As well as helping people while shopping, there are plans for an assisted walking group as well as 'dementia friendly taxis', to cut out the worry for people when they order a lift.

Watch my report on Corbridge's progress so far: