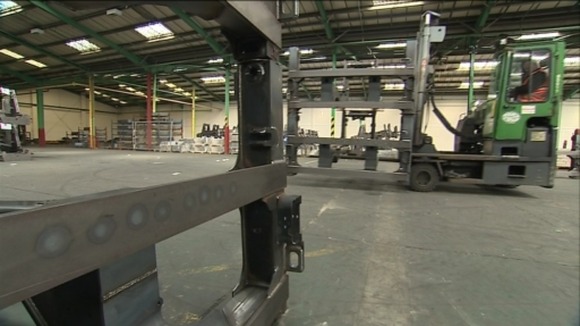 It's long been said that the North East has been over-reliant on the public sector.
The Government's Regional Growth Fund was set up to encourage private investment in areas like ours. Today, the minister Simon Hughes came to Teesside to announce eleven winning North East bids in the fifth round of the RGF.
Mr Hughes toured Tinsley Special Products in Stockton, which has received funding in two previous rounds of the Regional Growth Fund. Now, it is being awarded £3.5m, which will help it to establish a new site in Peterlee.
All told, the company says the investment from the RGF is helping to create 200 jobs.
"The Regional Growth Fund has allowed us to grow and access new markets. It's allowed us to develop our people, our processes and our portfolio of products. Round five will allow us to grow our export capabilities and add probably five new products to our standard product range."
– Stuart Arnold, Tinsley Special Products

The Government says that for every £1 from the Regional Growth Fund, the private sector injects £5.50

Some though, say the Regional Growth Fund has failed to deliver. The Hartlepool MP and Shadow Industry Minister Iain Wright says it has taken too long for money to be distributed to the regions.

He points to a National Audit Office report in February 2014, which concluded that a 'significant amount' of money was still to be allocated through the Fund.
"The key point is how is it benefiting firms in the North East? Are we really capturing that opportunity and are jobs being created? And the evidence from the independent National Audit Office shows that actually it takes far too long and the money is not getting out of the door into the regions as quickly as it should."
– Iain Wright MP, Shadow Industry Minister

On his visit to Stockton, Simon Hughes said the delays had been rectified.
'There is no delay now in the money being released for the activities on the ground. We intend to spend the money. We don't want to hand it back to the Treasury. It's there for the regions and the very fact there are eleven bids which have succeeded in the North East shows the message is getting across."
– Simon Hughes MP, Justice Minister

The £3.2bn pound Regional Growth Fund runs from 2011 to 2017. Bidding for the sixth round of the RGF will open this summer.

Watch my full report here: