Sage General Director steps down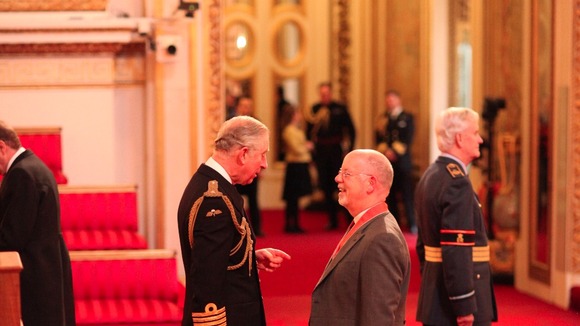 The man who has been at the helm of Sage Gateshead since its inception has announced that he is stepping down from the role.
Anthony Sargent will leave after 15 years as general director in April 2015, following the venue's 10th birthday in December 2014.
In addition, Katherine Zeserson, who has been director of learning and participation at the venue since 2002, will also be leaving in early 2015.
"Sage Gateshead has been the longest chapter of my life I've ever committed to a single project.

"It's been an enormously fulfilling 15 years, and I'm proud beyond words of the extraordinary team of staff, musicians and board colleagues whose achievements have together given Sage Gateshead such an internationally acclaimed first decade.

"Working with them has been a daily inspiration, seeing Sage Gateshead now so vividly established as one of the international triumphs of a region with so much cultural success to be proud of. I

"'m looking forward very much to our 10th Birthday celebrations, and then to seeing all the new developments and triumphs of Sage Gateshead's second decade building on the foundations we've established so far"
– Anthony Sargent, CBE
"The fact that Sage Gateshead has established a national and international reputation as one of the great venues of the world is due to the tireless dedication and leadership of Anthony Sargent.

"He leaves an extraordinary legacy of achievement and an organisation that is recognised as one of the very finest centres for music performances and education.

"I also pay great tribute to Katherine Zeserson, whose leadership in the field of music education is recognised internationally.

"Both Anthony and Katherine have made an enormous contribution to the cultural landscape of both the North East and the UK, and I thank them enormously."
– Lord Falconer of Thoroton, Chairman of Sage Gateshead
"Helping to shape and lead Sage Gateshead since 2001 has been an extraordinary and deeply rewarding experience.

"I am enormously proud of the reach and impact of our work over the last decade and the transformation to which the company has contributed in the cultural landscape and communities of the North East.

"I know that the organisation's commitment to access and excellence as indivisible defining principles will continue undimmed, and the organisation's national and international leadership in the field of music education will grow in strength through the outstanding work of the learning and participation team."
– Katherine Zeserson, director of learning and participation

An international search for a new leadership team will begin in the late spring, and it is hoped that new appointments could be announced in the autumn.

Anthony Sargent biographyAnthony Sargent held Choral Scholarships successively at Oxford University's Magdalen and Christ Church Colleges while studying Politics, Philosophy and Economics. From Oxford he joined the BBC, spending twelve years in a variety of radio and television production and presentation posts, finally in the newly created post of Concerts Planning Manager – responsible for the planning and artistic management and radio broadcasting of the BBC Proms and for the artistic management and broadcasting of the BBC Symphony Orchestra's work throughout the year.

In 1986 he joined the new management team of London's Southbank Centre (following the abolition of the Greater London Council) as the centre's first Artistic Projects Director, sharing responsibility for devising its overall artistic policies, and creating and leading the department responsible for most of the centre's own original programming and multi-disciplinary festivals.

In 1989 he took the new post of Head of Arts for Birmingham City Council, creating and implementing the Council's (first) Arts Strategy and leading many of Birmingham's most ambitious arts initiatives including Birmingham's 10-year festival of the 20th Century, Towards the Millennium, planned jointly with Sir Simon Rattle.

In spring 1999 he was invited to re-join to the BBC as External Partnerships & Programme Development Manager for BBC Millennium Music Live (the most ambitious music project the BBChad ever staged) then in 2000 he took up the fifth newly created job he has held in succession, leading the team creating Sage Gateshead as its founding General Director.

Anthony Sargent was created a CBE for services to the arts in 2013, and is a Fellow of the Royal Society of Arts, an Honorary Fellow of the Birmingham Conservatoire of Music and Sunderland University and in 2008 jointly with Sir Bobby Robson received the Hotspur Award, given annually to the person/s who 'with bold endeavour' have contributed most to the development of the North East.

Katherine Zeserson biographyKatherine Zeserson was a founding Director of Sage Gateshead, responsible for the strategic design, direction and implementation of its ambitious, internationally acclaimed Learning and Participation programme. Alongside Sage Gateshead's transformative work with people of all ages and aspirations across Northeast England and beyond, this has included initiatives like Sing Up, funded by the UK Department for Education 2007 – 2012 and working with 98% of English primary schools, now a successful independent company; and the collaborative development of the UK's first BA (Hons) programme in Community Music.

She has won an international reputation as a trainer, music animateur and educator having led creative projects across a notably wide range of community, educational and social contexts. She has taught at Higher Education and post-graduate level; led animateur, teacher and leadership development programmes within the education, cultural and third sectors in the UK and internationally, and is currently co-leading an innovative 3 year Brazil-UK music education research collaboration as part of the British Council's TRANSFORM programme.

Significant publications include chapters in Debates in Music Education (Routledge 2012), Making Music in the Primary School (Routledge 2011), A Practical Guide to Teaching Music in the Secondary School (Routledge 2009), and Community Music Handbook (Russell House 2006). She is Chair of Lawnmowers Independent Theatre Company, co-Chair of the Education, Learning and Participation group of the European Concert Halls Organisation, Chair of Governors at Chillingham Road Primary School, a Sing Up Ltd Board member, and part of the Cultural Learning Alliance Steering Group.

Born in USA in 1959, she was educated in New York, Ireland and Devon. She holds a BA in Philosophy and Psychology and an MA in Creative Writing, and is writing a Professional Doctorate analysing the lessons to be drawn from Sage Gateshead's emergence as a cultural learning organisation. She also performs professionally with vocal ensembles Mouthful and Human Music.

10 Years of Sage Gateshead

Sage Gateshead is an international home for music and musical discovery located in the North East of England. Its local, national and international concert programme runs all year round and incorporates all kinds of music.

After Sage Gateshead's first five years its turnover and activity levels were more than twice those originally projected, with conferencing running at four times the original projections and Sage Gateshead's internationally acclaimed education, training and participation programme having reached five times the levels originally planned. On the basis of figures to date, we anticipate that by Sage Gateshead's 10th birthday in December 2014 we will have presented over 4,000 concerts, engaged with 1.5m education contacts, welcomed 6m visitors and contributed £300m to the region's economy – over six times the entire cost of building Sage Gateshead.

The building itself is spectacular. Designed by Lord Foster on a landmark waterfront site, NewcastleGateshead Quayside, it incorporates outstanding performance spaces of internationally acclaimed acoustic excellence, described by conductor Lorin Maazel after his debut in Sage Gateshead as one of the 5 finest music centres in the world. It is home to Royal Northern Sinfonia, Orchestra of Sage Gateshead, and the Folkworks programme, as well as providing a much broader performance programme. Sage Gateshead offers an extensive Join In and Make Music programme that enables everyone of every age or ability to become involved in music. In addition to the work in Sage Gateshead itself, 70% of the work of the programme takes place outside of the venue and in the communities.

The world-class acoustics and the design of the spaces also make it one of the UK's most popular venues for conferences and events.

Sage Gateshead and all aspects of its performance and education work are managed and programmed by the charity arm, North Music Trust.

Over 10 yearsThe volume of work undertaken by Sage Gateshead has outstripped what was projected when the organisation was planned. The largest increases have been in Learning and Participation where total turnover/activity has increased more than fivefold, conferencing and events (almost fourfold) and turnover from performances (more than double the original projection).

A study by Morris Hargreaves McIntyre revealed that in 10 years awareness of Sage Gateshead is approaching the levels enjoyed by New York's Carnegie Hall (122 years) and Sydney Opera House (40 years). 73% of those who have ever visited continue to be actively engaged – double that of other leading UK music venues.

Sage Gateshead has:

Hosted 4,000 performancesEngaged with 1.5m people through music-makingAttracted 6 million visitorsMade a £300m economic contribution to the region (6x entire capital cost of Sage Gateshead)

Performance Programme Artists that have performed at Sage Gateshead over the past 10 years include:Aled Jones, Alison Krauss, Alison Moyet, Antony and the Johnsons, Barbara Dickson, BBCPhilharmonic, Belcea Quartet, Belle & Sebastian, Beverley Knight, Bill Wyman, Billy Bragg, Bob Geldof, Brian Wilson, Bright Eyes, Bryan Adams, Bryan Ferry, Buena Vista Social Club, Buzzcocks, Chas & Dave, Courtney Pine, Crosby & Nash, Czech Philharmonic, De La Soul, Debbie Harry, Dionne Warwick, Dr John, Duff McKagan's Loaded, Eels, Elbow, Elvis Costello, Emmylou Harris, Fairport Convention, George Clinton, Giles Peterson, Goldfrapp, Grace Jones, Graham Coxon, Herbie Hancock, Ibrahim Ferrer, Neil Finn, Imogen Heap, James Brown, Jamie Cullum, Jan Garbarek, Joanna Newsom, José Carreras, Katherine Jenkins, Kathryn Tickell Band, Kris Kristofferson, Ladysmith Black Mambazo, Lambchop, Laura Veirs, Lemon Jelly, Lesley Garret, London Symphony Orchestra, Lorin Maazel, Lou Reed, Loudon Wainwright, Martha Wainwright, Mavis Staples, Maximo Park, Mogwai, Morrissey, Mumford and Sons, Nancy Sinatra, Paco Peña, Paloma Faith, Patti Smith, Philharmonia Orchestra, Proclaimers, Regina Spektor, Richard Ashcroft, Robert Plant, Roger Daltrey, Roseanne Cash, Rufus Wainwright, Russell Watson, Ryan Adams, Seth MacFarlane, Sigur Ros, Sir Simon Rattle, Solomon Burke, Spiritualized, Sting, The Fall, The Futureheads, Van Morrison, Vienna Philharmonic.