£60k donation to Newcastle food bank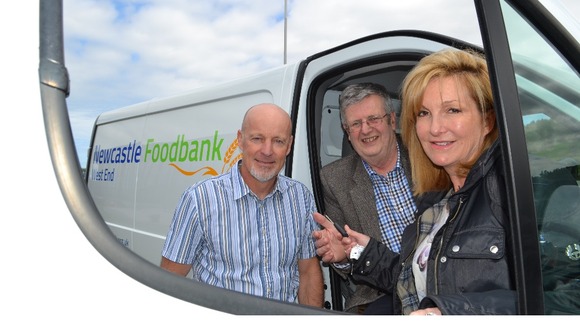 West End Food Bank has been given a £60,000 to buy a van and secure services for 2015. The donation has been made by Springfield House Trust, a charity set up by John and Sue Reece.
The food bank, based at Venerable Bede Church in the west end of Newcastle, has only been open for one year. It is already the largest in the country, currently providing food for over 1,000 people per week, roughly half of which are children. The food bank is affiliated to national organisation, The Trussell Trust.
The cost of this food if bought from a supermarket would be £10,000 per week or £500,000 per year.
During the period April 2013 – March 2014 the West End Food bank has fed over 23,000 people and, with no sign of demand reducing, that figure is expected to increase to around 60,000 – 70,000 during 2014-2015.
"This donation has come at a very critical time for the West End Food Bank. Without it we were facing closure as demand has risen so rapidly that we could not sustain our service without a significant injection of funds.

"We are very grateful for the generosity of John and Sue Reece whose donation has secured our future, for the forthcoming year at least. The beneficiaries of the food parcels are all genuinely in need of our service; each has their own story or circumstance and many face heartbreakingly difficult times.

"Because of this we need to ensure that we can sustain the service we provide beyond 2015 and we are in need of further support both in terms of finance and in direct food contributions, so if you or your company can help us please get in touch.

"Of course, the service we offer would not be possible without the generosity of the people of Newcastle who continue to volunteer their time and donate food to help those less fortunate".
– Michael Nixon, who runs the food bank
"John and I are delighted to make this donation to the West End Food Bank. Michael and his team of volunteers are providing a fantastic service for those in genuine need in the region. We hope that the funds will help to maintain its much needed services throughout the forthcoming year. Sadly, many people and families in our region have to turn to food banks in times of crisis and we want to do what we can to ensure that they are helped and receive the food and nutrition they need."
– Sue Reece

The Springfield House Trust was established in 2011 by John and Sue Reece and aims to help disadvantaged people in the region.