Louis Tomlinson has defended the band's decision to take a break after their current world tour.
The One Direction singer says that is makes sense after such a hectic five years of shows. Louis, who was speaking to ITV News Tyne Tees backstage in Newcastle, added that they will 'definitely get back together'.
So what are their plans?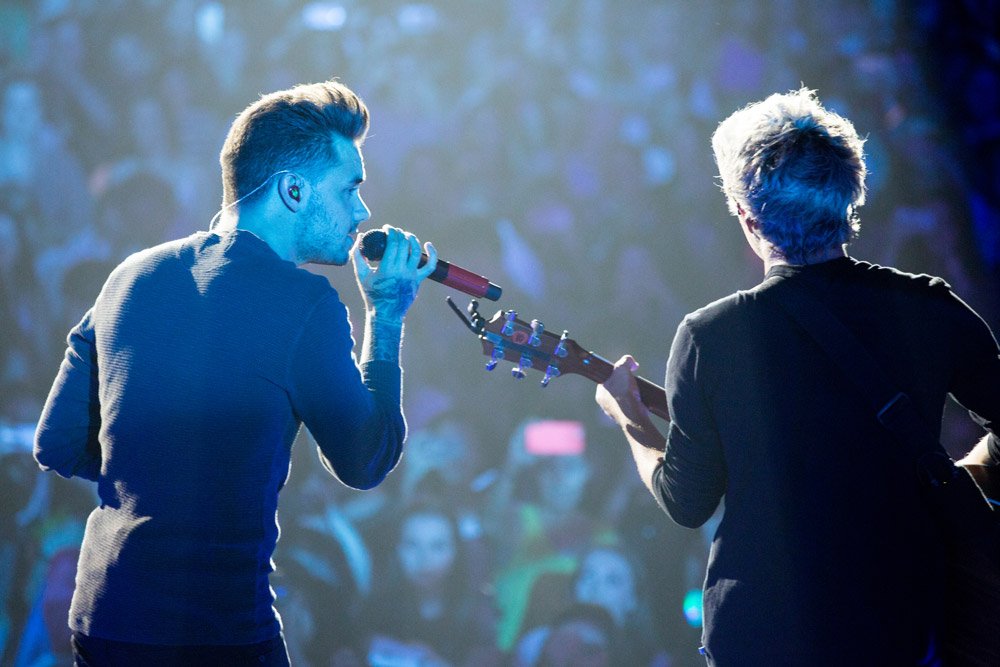 One Direction are in the region ahead of their second gig at Newcastle's Metro Radio Arena tonight. The boys said their third and final show - tomorrow night - would be the loudest.
If you're there, let us know what it's like by tweeting @itvtynetees or emailing pamandian@itv.com.
Watch our report about Sunday's One Direction gig here.
We even got Niall to try out his Geordie accent. See and hear the results below:
Advertisement
A pair of tiny marmoset monkeys have been born at Tynemouth's Blue Reef Aquarium.
It's the first time the aquarium's resident colony of miniature rescued monkeys has bred and keepers are delighted with how well first-time parents Miko and Minnie are coping.
The marmoset twins, which weighed less than 40 grams each when they were born at the end of last week, spend the first few weeks of their lives clinging to the backs of their parents.
Marmosets live in social family groups and have a strict hierarchy ranking. Unusually for primates, females nearly always give birth to non-identical twins.
All the monkeys at Blue Reef have been rescued after being found living in unsuitable conditions while others have been made homeless after their owners could no longer look after them.
Both twins are feeding well, and Minnie and Miko are happily passing the babies around.

We expect them to start exploring away from Miko in about a week, they are already becoming much more active on his back; wriggling around quite a lot.

They will be weaned from Minnie's milk at about three to four months old when they will start eating solid food."
– Blue Reef's Rosie Wiggin
A British soldier who died at the Somme almost 100 years ago has finally been laid to rest with full military honours near the battlefield.
Read the full story ›
The poppies will adorn St Mary's Heritage Centre on Gateshead Quays from November 5 to December 18.
Read the full story ›
The second of two stolen parrots has been recovered and returned to its home in Middlesbrough.
The two African grey parrots were stolen from a property on Bransdale Road in Berwick Hills between Thursday 24th and Monday 28th September.
The first parrot, Missy, was reunited with her owner on Wednesday 30th September and the second parrot, Snoop Dogg, was returned home today (Friday).
Cleveland Police have thanked everyone who helped with this incident and to everyone who shared the posts via social media, saying it is much appreciated.
Advertisement
The Royal Navy hopes to identify North East sailors who were killed at the Battle of Jutland during WWI
Read the full story ›
One of the UK's most iconic steam engines, Sir Nigel Gresley, has made its final journey before it undergoes a major overhaul.
Read the full story ›
A video of North East actor Robson Green promoting the Tyne and Wear Metro has been rediscovered after more than 20 years.
The educational video from 1985 featured the Geordie actor before he was famous. It was made to deter anti-social behaviour on the Metro network.
A few years after it was made, the one and only copy of the footage was lost, but, 30 years after it was made, has reappeared online.
See Robson Green play the role of a Metro driver in the video below, from 1:05.
The Durham Lumiere festival is back and creators reveal their most ambitious festival programme to date.
Read the full story ›
Load more updates