'Wheelchair' Steve Wilkinson has completed a marathon challenge on the Tyne and Wear Metro, getting on and off a train at every station on the system to raise money for charity.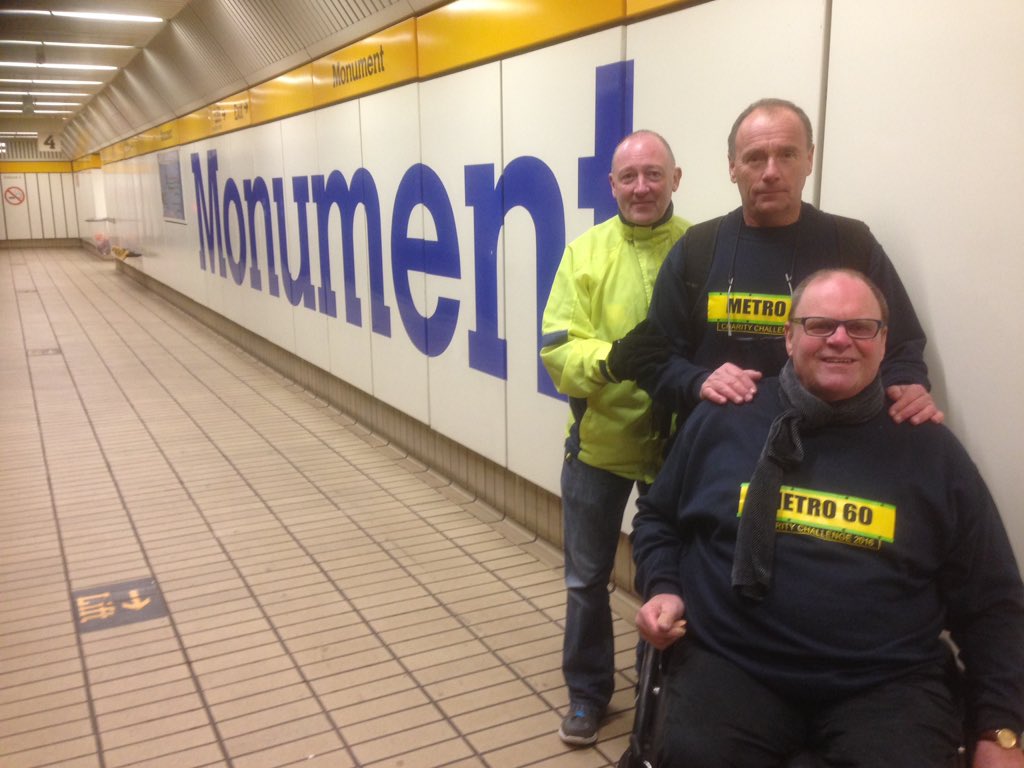 Starting at the airport at 6am, and finishing at St James' at 9pm, Steve has managed to raise over £2,000 for 11 North East charities, with people sponsoring him from 5p per station.
'Yarnbombers' in Thirsk are celebrating the Tour de Yorkshire by anonymously decorating the town with hundreds of woollen creations.
Read the full story ›
Advertisement
Who better to teach our weatherman Ross all about the Queen than Year 2 at St Mary's Primary in Jarrow...
If you ever wanted to know what the Queen does and what she eats for her birthday meal- wonder no more:
As the Queen turns 90 this week, ITV News Tyne Tees is telling the stories of other 90-year-olds from across the region.
Read the full story ›
South Shields FC player Warren Byrne is going viral with a goal he scored against Tow Law Town on April 9.
Sorry, this content isn't available on your device.
West Heslerton in Yorkshire comes with a 21-bedroom mansion, 43 houses, a pub, sports field and 2,116 acres of surrounding land.
Read the full story ›
Advertisement
A man from Teesside, who prides himself on being one of Adele's biggest fans, says his dreams have come true after meeting the star.
Read the full story ›
A pair of black tip reef sharks are settling in to their new home at Tynemouth's Blue Reef Aquarium.
The sharks, a male and a female, have spent time acclimatising in the North Tyneside's attraction's quarantine area before being released in to their giant tropical ocean display.
They are sharing the coral reef-themed feature with a pair of cow nose rays and more than 400 tropical fish.
"The new sharks look absolutely amazing and are really making themselves at home.

"Black tips really are everyone's idea of what a 'real' shark should look like and they definitely add a new dimension to the visitor experience.
– Blue Reef Aquarium's Rosie Wiggin
The black tip reef shark is one of the three most abundant shark species inhabiting coral reefs in the Indo-Pacific, along with the white tip and grey reef sharks.
The shark gets its name from the dark marks on the end of its fins.
Belonging to the same family as the great white shark, black tips only reach a maximum size of around 1.6 metres.
They are active predators and feed on a wide variety of prey including small fish, octopus, squid and crustaceans.
They have also been known to eat sea snakes and even seabirds.
They give birth to between two to four live young which can hunt as soon as they are born.
Redcar's RNLI lifeboat team have been called to help rescue a dog, which became stranded at the South Gare near the town.
The dog ran away from its owner and became stranded on a rocky outcrop as the tide began to come in.
The owner called the coastguard, and they arrived, with the inshore lifeboat team, to find that the dog had already been rescued by members of the public.
Two men who were in the area were able to reach the dog and carry it back to safety before the tide came in.
The dog is thought to be uninjured.
Comedian Roy "Chubby" Brown has been forced to cancel a gig in Nottinghamshire after a council deemed his brand of humour "inappropriate".
Read the full story ›
Load more updates