Staff at Sports Direct warehouses face a "six strikes and you're out" policy if they breach a set list of offences, including "excessive talking" and taking too long in the toilet.
The Unite union criticised the list for establishing a culture of fear.
Speaking to MPs ahead of Mike Ashley's appearance, the union criticised the retail chain's bosses for displaying "arrogance and contempt".
ITV News Business Editor Joel Hills tweeted: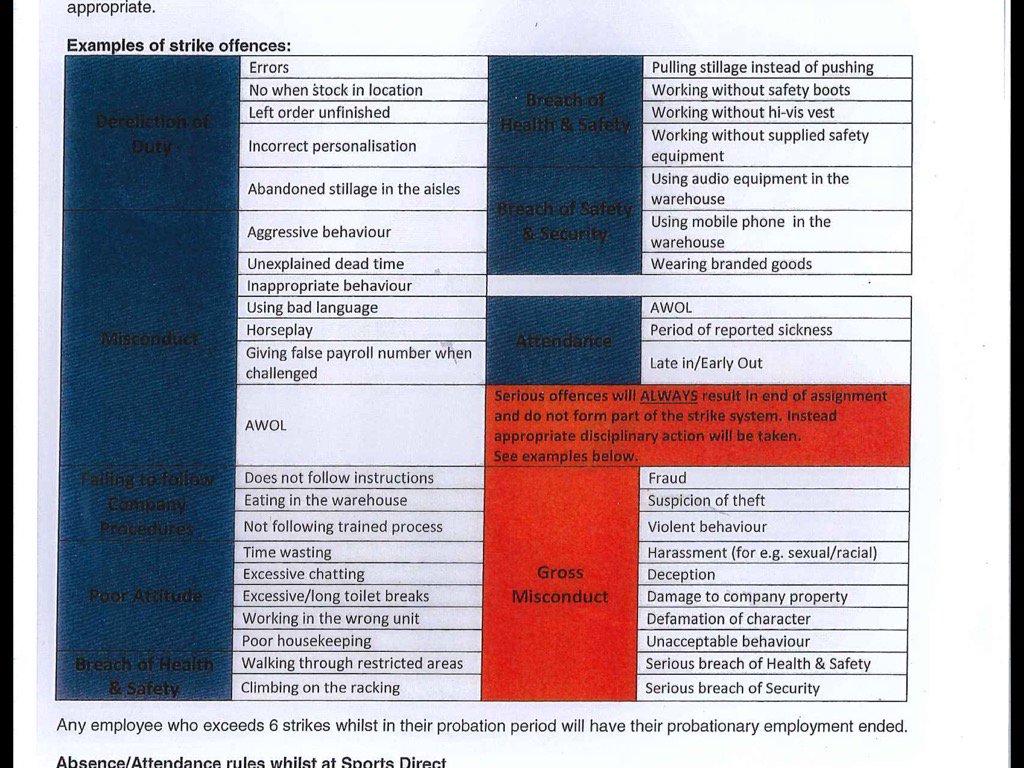 Union says the agencies that employ 3000 people at @sportsdirectuk warehouse also charge them for pre-pay debit cards and insurance.
MPs ask @unitetheunion who it blames for working conditions. @sportsdirectuk or recruitment agencies. "You can't outsource responsibility".
The union spoke of "arrogance and contempt" at the top of @sportsdirectuk Next up are the recruitment agencies who provide staff.
Union leaders also confirmed talks had been held with HM Revenue and Customs about back pay for workers at Sports Direct amid claims of underpayment.
They also disclosed that workers who do not have a bank account have their wages paid via a debit card which they have to pay for.
Mike Ashley, the boss of Sports Direct, arrives at Portcullis House in London where he will give evidence to MPs.
Advertisement
Steve Turner, from Unite Union, is giving evidence to MPs on Sports Direct's working practices.
He claimed the firm's business model had "exploitation" at its heart as he criticised the number of staff on zero hours contracts.
Sports Direct boss Mike Ashley will give evidence shortly.
Steve Turner of @unitetheunion says @sportsdirectuk business model has "exploitation at heart of it". 79% of store staff on 0 hr contracts.
Turner says some @sportsdirectuk staff have been on temporary contracts for upto 6 years. "We're not fruit picking in Weald of Kent here".
The billionaire is set to answer questions later this morning over working conditions at his Shirebrook warehouse.
Read the full story ›
The 294m-long Disney Magic berthed at the Port of Tyne, in North Shields, bringing 2,700 visitors to the region.
Read the full story ›
A report published today by the former deputy Prime Minister details his plan to turn the Tees Valley into a 'bustling powerhouse'.
Read the full story ›
Advertisement
The Sports Direct boss said in a letter he will not be at next week's session because his legal representative is unavailable.
Read the full story ›
BHS administrators have failed to find a buyer and will begin winding the company down, putting 11,000 jobs at risk, adminstrators Duff & Phelps has said.
BHS has 11,000 employees across 164 stores.
11 stores are in the North East, putting the jobs of around 550 employees at risk.
The North East stores are in:
Newcastle
Metrocentre
South Shields
Sunderland
Durham
Hartlepool
Darlington
Middlesbrough
York (2) Coney Street and Monks Cross Retail Park
Knareborough
Philip Duffy and Benjamin Wiles, Managing Directors of Duff & Phelps, the administrators said:
Our thoughts today are with the employees. We thank them for their professionalism and hard work. We would also like to thank the great British public for helping us in our efforts to save BHS resulting in several weeks of significant sales.

As a result of the wind down all 163 stores will be in close down sale mode over the coming weeks and whilst continuing efforts will be made by the administrators to sell stores the jobs of 8000 members of staff are likely to go. A further 3000 jobs of none BHS employees who work in the stores may also be at risk.
– Philip Duffy and Benjamin Wiles, Managing Directors of Duff & Phelps
The new British Steel logo has been unveiled at a flag-raising ceremony in Scunthorpe.
The solar farm has been installed alongside 10 wind turbines already generating clean power for the Wearside plant.
Read the full story ›
Load more updates