Workers at the Barbour warehouse in Gateshead are striking because they're angry at plans that they say would see them working late at night with unsocial hours pay removed.
Nexus is recruiting ten apprentices for its rail engineering section. The operator of the Tyne and Wear Metro expanded the apprenticeship scheme in 2013, committing to recruit ten young people a year for three years.
Applications for this year's intake open on Friday, 2 January, and will remain open until the end of March. Successful applicants will join the scheme in the autumn. Training will take place at Gateshead College and the Nexus rail engineering base at South Gosforth in Newcastle.
The competition for places is expected to be fierce. Last year Nexus received over 400 hundred applications which met the minimum requirements for the scheme.
"Nexus has worked closely with Gateshead College to develop an expanded and hugely successful apprenticeship scheme. This is the third year running that we have started recruiting trainee engineers.

"The scheme delivers an excellent standard of vocational training. The successful applicants will be on the first rung of the ladder of an exciting career in the railway industry.

"This recruitment process is also vital in lowering the average age of our workforce and to ensure we have people with the right skills coming through to keep the Metro system running for many years to come."
– Raymond Johnstone, Director of Rail and Infrastructure for Nexus
Advertisement
Clothing manufacturer Barbour says it is very disappointed not to have been able to reach agreement with the union over the introduction of new shift patterns.
It says it's been in consultation with warehouse employees since May 2014 and has done everything possible to resolve their concerns.
Barbour has 160 people working in its warehouse in Follingsby Park, Gateshead. It says, of these, 65 are in the union and of those that voted only 33 wanted strike action. The remaining warehouse staff are still working hard during this time.
Barbour has over 600 employees in the North East and in the last few years, we have created over 150 new jobs in the region as we've grown to become a brand that now operates in the worldwide marketplace. In order to compete as a brand on this international scale, we need to evolve with modern day working practices that are common in the industry in order to remain competitive and meet expanding customer demand.

This is why we need to introduce shift patterns that are commonplace in warehousing. These shift patterns, negotiated with the union, incorporate two shifts, covering a time period between 7am and 10.30pm. We have offered a generous 10% pay increase to move to this new way of working, which offers warehouse staff a higher rate of income for every hour that they work.

Many of our staff members are supportive of this and everyone has had time to plan and consider the shift changes since being notified of the proposals in May last year. Any changes will come into effect at the end of March this year.

It is hugely regrettable that this small number of union members have decided to take this divisive action and we will continue to work hard to resolve this during the consultation period.
– Steve Buck, Managing Director, J Barbour & Sons Ltd
Striking workers at the Barbour distribution centre in Gateshead are chanting "family values not Barbour values".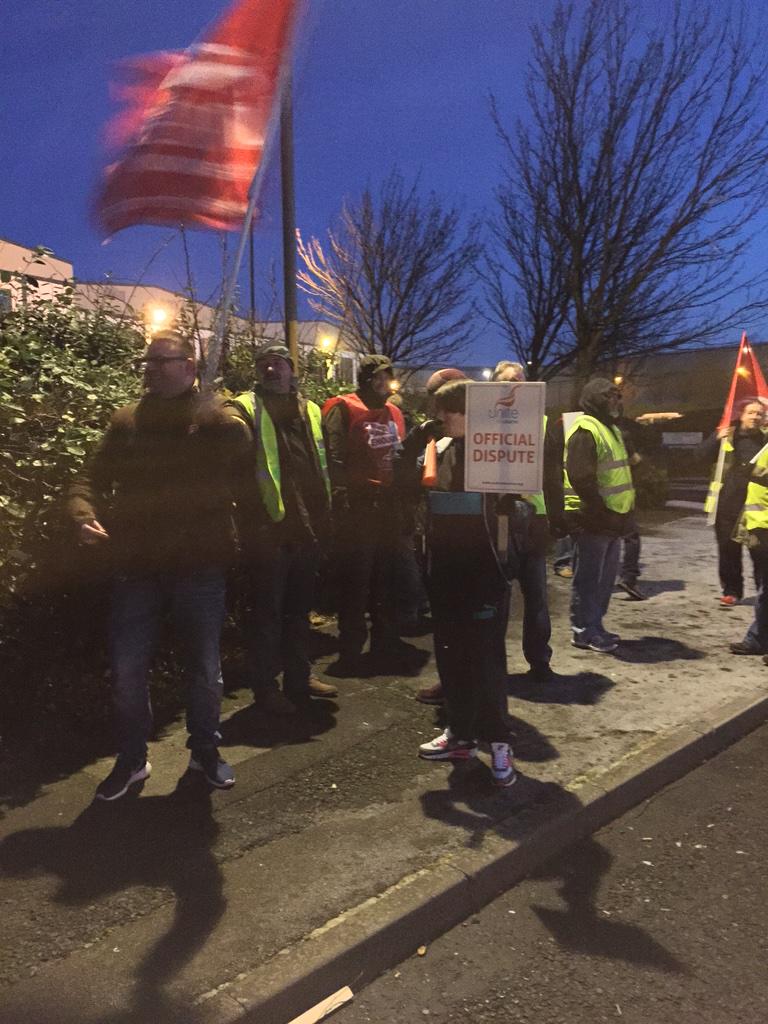 A Stockton man who wrote an open letter to his stepson's employers has received nearly 13,000 'likes' on a social network.
Steve Thompson complained to JD Wetherspoon about their zero-hour contracts and how little his son is paid.
To his surprise, nearly 14,000 people have shared the letter with friends, and it has gone viral across the internet.
Advertisement
Workers at the Tyneside's famous clothing makers Barbour are going on strike for four weeks, in an argument over pay.
Members of Unite in the firm's Gateshead distribution branch will protest from this morning.
They say they are angry about the company's decision to remove their 'unsocial hours' payment, as well as a new requirement to work until 11pm at night.
135 jobs will go in the North East and North Yorkshire after the administrators of City Link announced a deal to keep the delivery firm afloat foundered.
A workforce of just 371 will remain to process parcels still in the network and to help wind down operations.
Administrators Ernst & Young said that an offer for the firm had been made by a consortium "which offered no money up front" and that no deal had been reached.
The National Union of Rail, Maritime and Transport Workers has announced that it has been made aware of a credible bidder to possibly take over some or all of the City Link trading operation.
"Within the past 24 hours RMT has been made aware of what we believe to be a credible bid to take over some or all of the City Link trading operation.

At this stage we have no further details and we understand the matter is in the hands of the administrators with the government and Vince Cable aware of the situation.

With today key in terms of redundancies RMT is urging the administrators to suspend the redundancy process and work with the Government and ?the administrators to urgently evaluate and act on any viable options that could keep City Link trading as a going concern."
– General Secretary Mick Cash
Chris Trattles, who works at the depot in Leeming, says, if he leaves, he leaves with his head high. City Link went into administration on Christmas Eve.
Load more updates