Parents should 'put some proper clothes on' when the do the school run, Jeremy Corbyn said as he backed a headteacher who appealed to parents to stop arriving in their pyjamas.
But the Labour leader said how they dressed was less important than making sure their children arrived on time and were well fed.
Kate Chisholm, headteacher at Skerne Park Academy in Darlington, made the appeal after she had noticed an increase in the number of parents wearing nightwear to the school gates and even to school assemblies and meetings.
Asked about the issue during a visit to Middlesbrough, Mr Corbyn told The Gazette: 'I wouldn't do it myself, I'd advise people to wear a coat and put some proper clothes on - it gets cold out there.'
A request for parents to stop wearing their pyjamas on the school run has divided opinion at a primary school in Darlington.
Some parents say that not getting dressed for school is 'shameful', while others have criticised the letter for bringing them unwelcome attention.
Meanwhile, Skerne Park Academy headteacher, Kate Chisholm has defended her choice to ask parents asking them to stop wearing pyjamas on the school run.
Ms Chisholm has said despite all the media attention, she would send the letter again for the sake of improving standards at the school.
Advertisement
Parent Karen Routh ignored the primary school's appeal to parents to wear "day clothes" when they bring their children to school.
Read the full story ›
The headteacher of a school in Darlington has defended her choice to send a letter to parents asking them to stop wearing pyjamas on the school run.
Kate Chisholm has said despite all the media attention, she would send the letter again for the sake of improving standards at the school.
I can't tell people how to dress and I would never dream of trying to.

However, I think some things need to be said whether parents agree with me or not.

I feel it got to a point where for the sake of school improvement and the outcomes of the children I had to say something.

At the end of the day I would still send that letter because I do believe in reinforcing children's life chances."
– Kate Chisholm, Headteacher at Skerne Park Academy
Our reporter Tom Sheldrick has told us that at Skerne Park Academy, in Darlington, there are differing opinions from parents this morning regarding the pyjamas debate.
Some say they'd never wear pyjamas, they agree with headteacher who sent out a letter on the subject.
Others say it's 'each to their own' and some say the letter has painted the community in a bad light.
This is the Skerne Park letter - despite some negative publicity, the headteacher tells me she would send it again https://t.co/qVcWFHF38L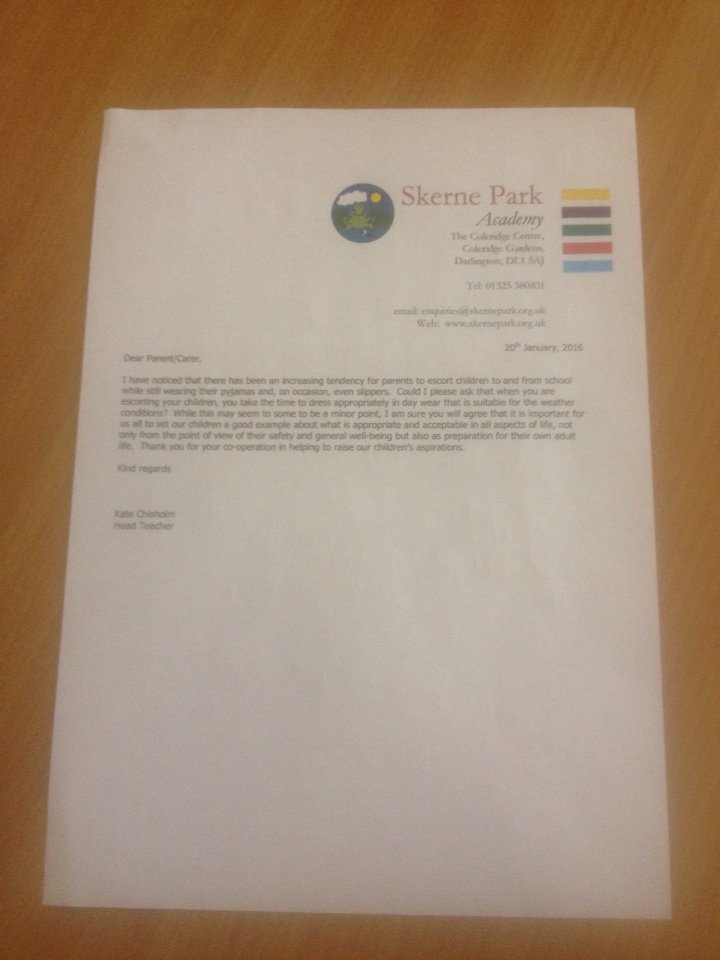 More media than parents outside Skerne Park Academy this morning... and no pyjamas to be seen https://t.co/JswaojJ7NW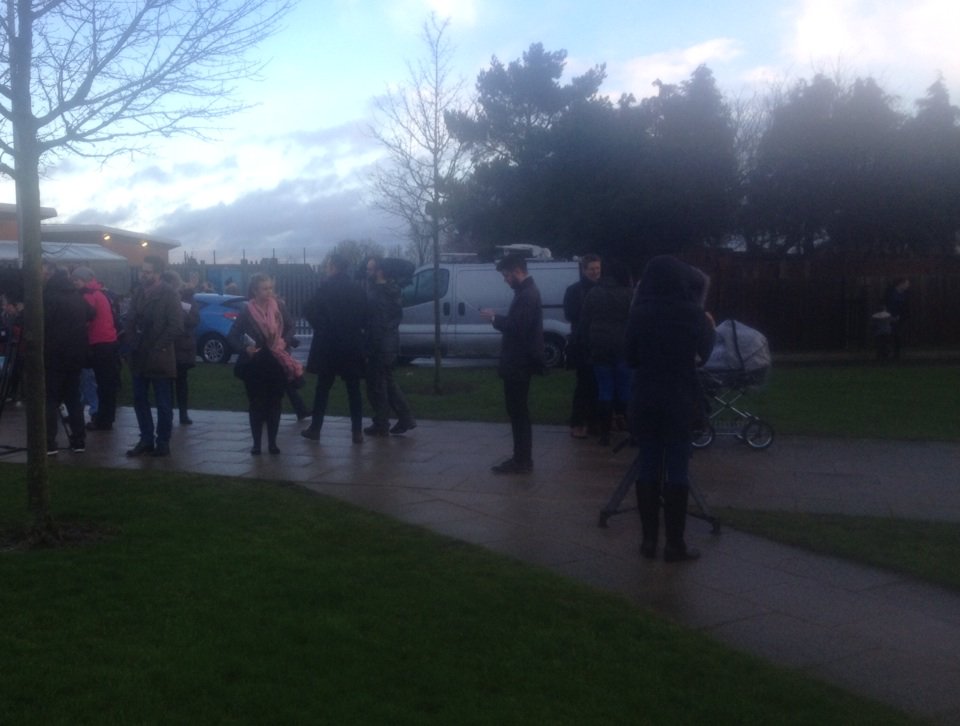 No pyjamas were spotted there this morning until one parent arrived wearing hers.
When asked about it, she said she was running late, that she doesn't normally wear them, and added that getting her daughter to school is her priority. She does not agree that it sets a bad example.
...until parent Karen Routh arrives in pyjamas, says she was running late, doesn't normally, doesn't set bad example https://t.co/3gTwB6TOu1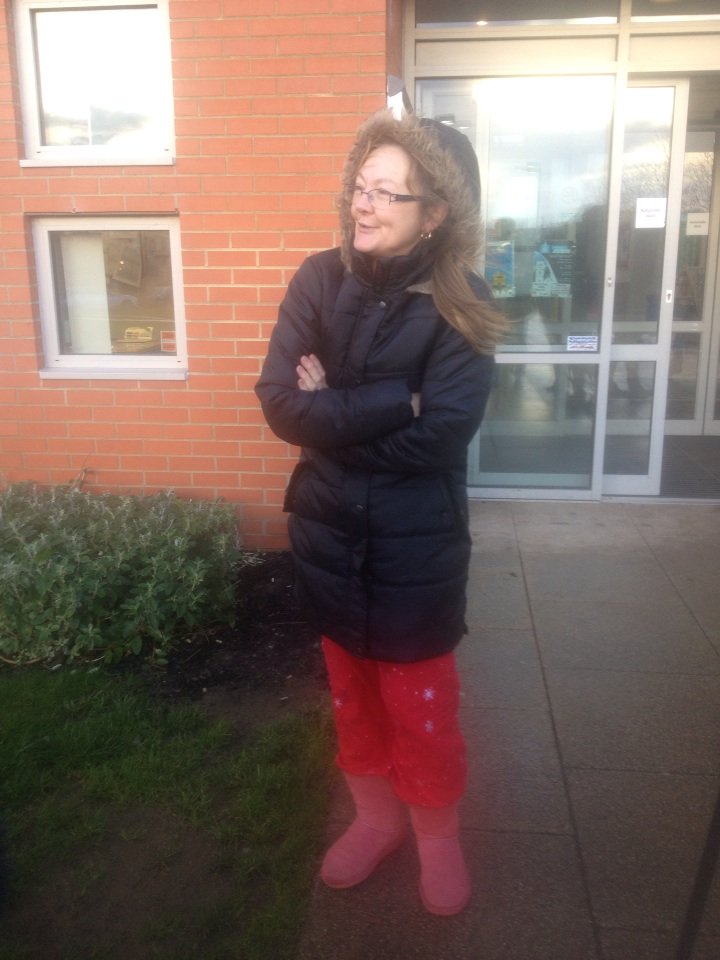 A primary school has asked parents to stop coming to school in pyjamas in a bid to "raise standards". Do you agree? Vote in our poll.
Read the full story ›
Advertisement
A primary school headteacher has written to parents asking them not to wear their pyjamas on the school run and to 'dress appropriately'.
Read the full story ›
More than 200 people attended a meeting today at a Sunderland private school threatened with closure, to look into how they can take it over themselves.
Sunderland High School has seen pupil numbers fall by half in the last ten years, and the charity that runs the school currently, United Church Schools Trust, announced at the start of the week that it would shut this summer.
Parents now hope to keep it open, by setting up a limited company to run the fee-paying school.
Watch Tom Sheldrick's report:
Middlesbrough is ranked in the bottom 10 local authorities ranked by the average percentage of candidates achieving five or more A* to C-grades at GCSE and equivalent qualifications, including English and maths, in their schools.
Out of 152 areas, Middlesbrough ranked 147th with 46.1% of pupils gaining the required grades. Our best performing area is York, the city is ranked 21st with 63.7% of pupils getting the grades - an average points score of 409.8 per pupil.
FULL LIST:
Position in list/Average % of pupils gaining the above grades/Average points score per pupil for GSCE or equivalent.
21st - York, City of 63.7% 409.8
28th - North Yorkshire 62.4% 392.4
30th - North Tyneside 62.0% 375.6
50th - Stockton-on-Tees 59.3% 383.4
64th - Gateshead 58.1% 385.3
67th - South Tyneside 57.7% 377.1
81st - Northumberland 56.9% 363.9
96th - Newcastle-upon-Tyne 55.7% 354.2
100th - Durham 55.1% 368.8
109th - Redcar and Cleveland 54.3% 354.9
114th - Hartlepool 53.4% 355.8
120th - Darlington 52.5% 365.3
134th - Sunderland 50.3% 356.0
147th - Middlesbrough 46.1% 337.9
The United Church Schools Trust has released a statement to explain the decision to close a prestigious independent school in Sunderland.
Sunderland High School is set to close at the end of the academic year.
"Despite Sunderland High School's reputation as an excellent school, the economic reality is that current and projected pupil numbers do not demonstrate sufficient demand for places to make the school financially viable in the future. It has therefore reluctantly been decided that the school will close at the end of the academic year.

"This is a very sad decision to have taken and follows the exploration of every other feasible option over several years including mergers, academisation and acquiring other schools in the area.

"Over the last five years, UCST has needed to subsidise the school's finances significantly. Alongside this, the school has made strenuous efforts to cut costs without negatively impacting on the quality of education provided and to reverse the decline in numbers. Substantial savings have been made but the school will still make a six figure loss this year and is expected to do so again next year. In addition, in order to maintain the school's facilities and estate, substantial capital investment is required.

"We have reached the point at which any further cost savings would now directly impact on the quality of education on offer. In that context, UCST cannot justify continuing a long-term subsidy of the school. The school has been run incredibly well and efficiently. It is just a case of falling demand for independent school places in the area meaning that it is no longer viable to run this school without seriously compromising the education that its pupils receive.

"Our focus now will be on helping pupils find appropriate alternative provision and assisting our highly professional and dedicated staff to find posts elsewhere. The school will remain open until the end of the academic year and we will be doing everything possible to help everyone affected negotiate the way ahead as easily as possible".
– United Church Schools Trust (UCST)
Load more updates