QI and Jonathan Creek star Alan Davies has confirmed he will be coming to Middlesbrough for his new show Little Victories in October 2015.
Read the full story ›
It looks like it's a case of 14th time lucky for Ant and Dec at the National Television Awards as they pick up Best Entertainment Presenters once again.
The night began with a win for the Geordie duo, who also picked up Best Show with I'm a Celebrity.
On accepting the award, Ant said:
"In the car on the way here we were like, 'I don't think we're going to win...' It's got to come to an end one day and we honestly thought tonight was the night...so thank God it wasn't!
We genuinely love what we do and we wouldn't want to stop it for a second. We feel priviledged to do the shows that we host and thank you so much for voting."
Advertisement
Selby Abbey and Castle Howard could see influx of tourists as 'Asian King of Pop' Jay Chou chooses them for his £2m wedding celebrations.
Read the full story ›
The light festival will be held for the fourth time in November - and organisers want local people to submit their ideas.
Read the full story ›
Paloma Faith has announced she will play a gig in North Yorkshire woodland as part of a summer Forest live tour.
The singer/songwriter will perform at Dalby Forest near Pickering on Friday June 26 as part of the Forestry Commission's outdoor concert series, having performed to sell-out crowds in 2013.
"I am so excited to do the forest tour. I did it before and had such a wonderful time. We are very lucky in Britain to have such a beautiful and diverse landscape and I am excited to play for you there again. See you all in the summer. "
– Paloma Faith
A statue on top of the Sunderland Empire Theatre, which toppled over on to its side during high winds has been safely removed.
A crane was brought in to take down the figure of Terpsichore, a Greek goddess of dancing.
The statue was a fibre glass replica of a bronze statue inside the theatre.
It was in poor condition and badly damaged in the weekend gales.
It will now have to be replaced.
Advertisement
The statue on its way down to the ground...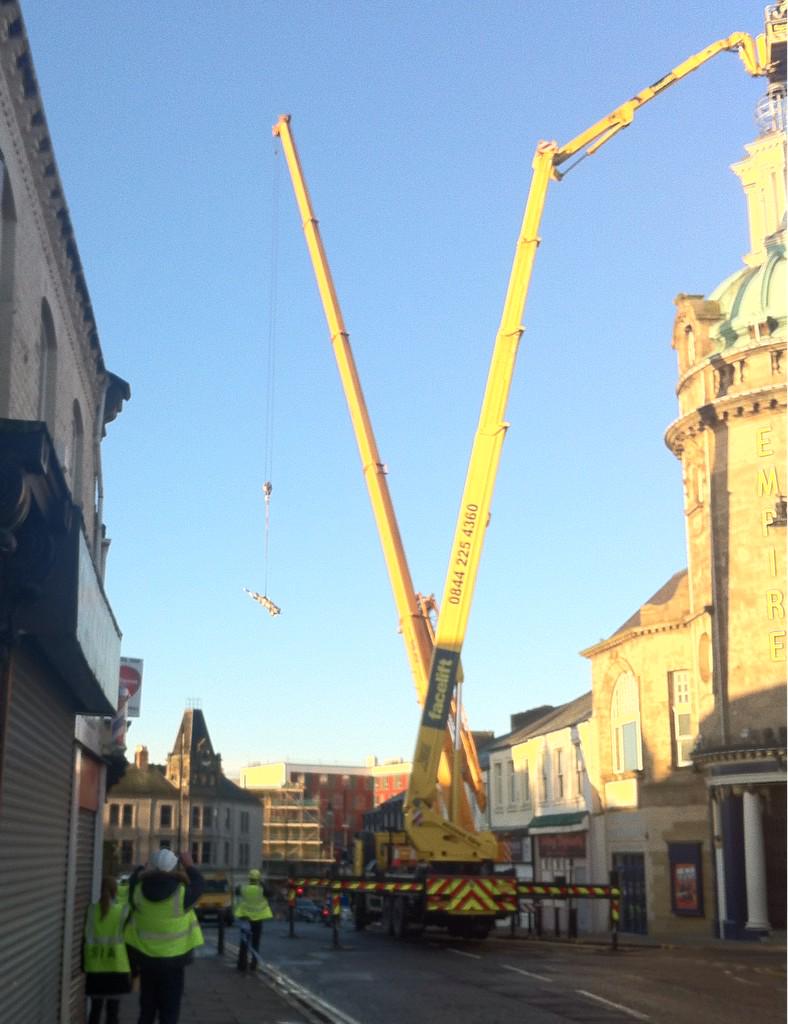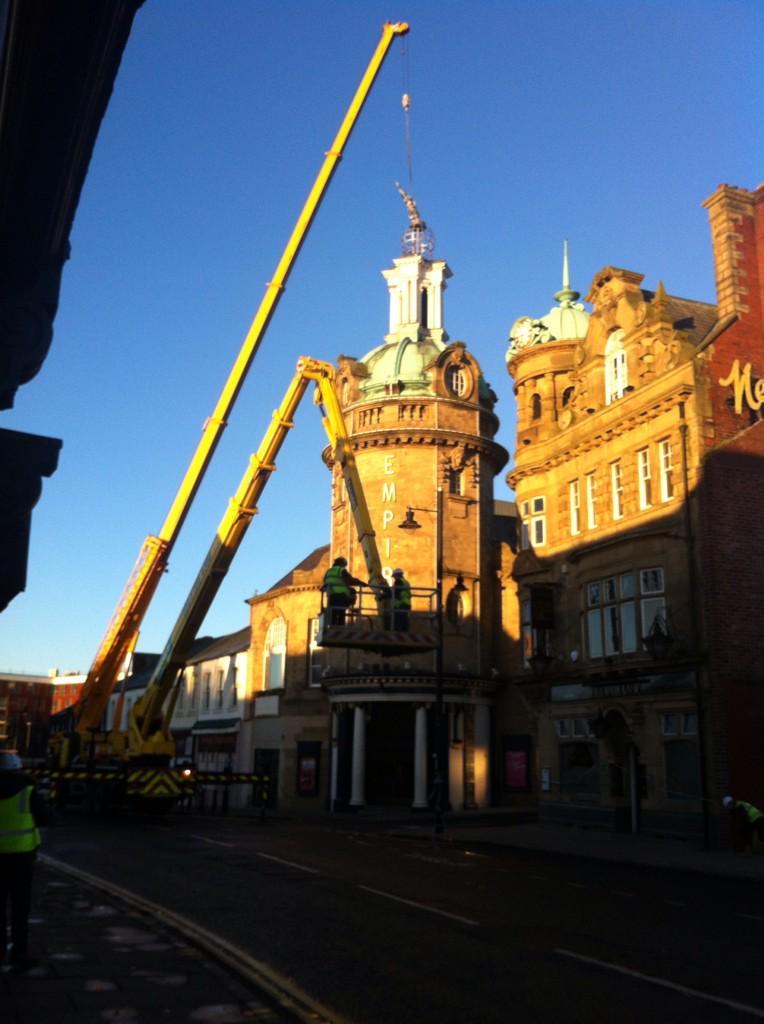 A crane was able to go up today because the windy weather has calmed.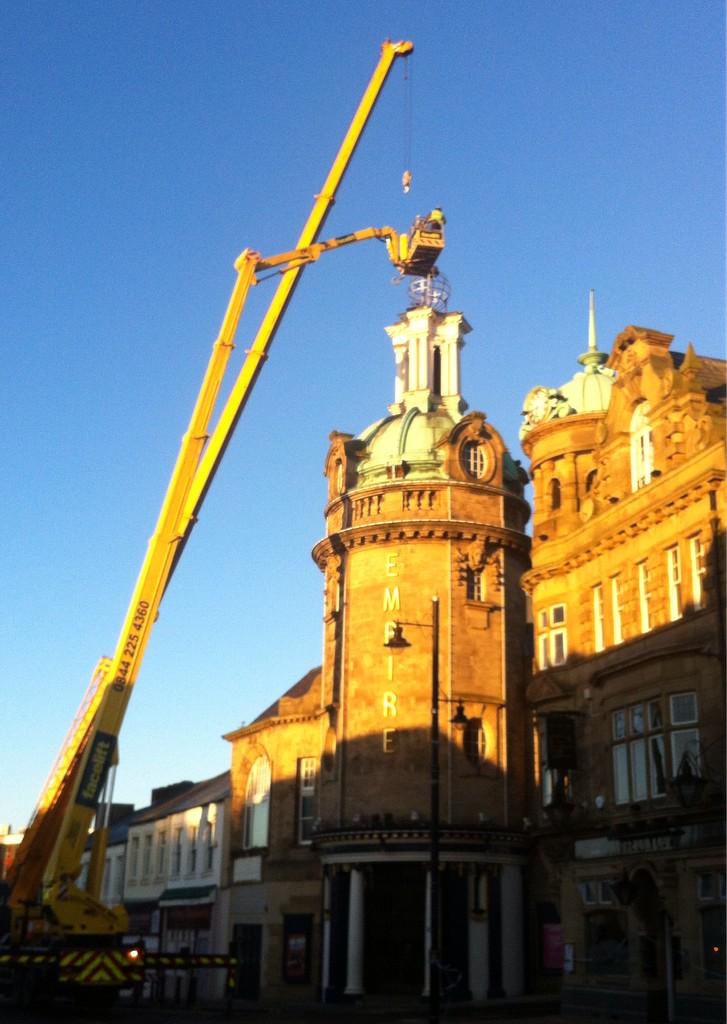 We're delighted to announce that the statue of Terpsichore has been rescued from the top of the tower and our box... http://t.co/ohWR9itoDH
A meeting is due to be held this morning to decide whether work can go ahead today to remove the damaged statue from the Theatre roof.
The statue of Terpsichore blew over in high winds on Saturday and is dangling precariously seven storeys above the ground.
A crane needs to be used to lift the statue to safety but can not operate until the winds drop. Today Empire Theatre and council officials will meet to decide if the work can be carried out.
The Theatre itself, the road and several nearby businesses remain closed until the statue is made safe.
Sunderland Council have released a statement on the statue which has become dislodge above a theatre in the city.
"Due to the ongoing high winds the iconic statue of Terpsichore (The Greek Muse of dancing and choral singing) at the top of the Sunderland Empire Tower has been dislodged and remains in a precarious and potentially dangerous position.

"Following a site meeting this morning it was found that the statue appears to have moved further but with wind speeds gusting up to 40mph it is still not safe to take action at this time.

"Our prime concern continues to be the safety of everyone in the area. With this in mind a section of High Street West and Garden Place adjacent to the main entrance to the theatre remains closed.

"We appreciate the issues that this is causing local businesses and residents and we are working to resolve this matter as quickly and safely as possible."
– Councillor John Kelly, Sunderland City Council
Load more updates